Word Count: Information not available
Summary: In one night, change comes with the strike of a match as Leo Riley loses everything. Giacomo Bianco's hitmen burned his home to the ground with his family inside. Leo will pay any price for his revenge. He will need power. Oguina, the mythical woman turned monster, can give it to him. But at what cost? Bianco gazes into an abyss that stares back. His fall to madness is a one-way trip Leo aims to stop at all costs before Bianco kills again. In his quest for vengeance, Leo teeters over that same cliff. Monster and Mafioso fight for dominance over Fall River's streets. Bianco's got more up his sleeve than anyone suspects, including the means to make his power absolute. Even new powers and strange allies might not be enough to ensure Leo's victory. Who is the real monster? Bianco, Oguina, or Leo himself?
A Change In Crime
Word Count:

66000
Summary: Sarah Wright woke up a few times after parties in strange places―but the morgue's a first. At eighteen, she's eager for a taste of independence, moving out of state to attend college. A change of scenery is extra-needed due to a bad breakup with her boyfriend, Scott. However, soon after escaping the body cooler, she makes two startling realizations: vampires are real, and she is one. There's nothing quite like an untimely death to ruin plans. California's sunny beaches aren't the best place for vampires to chill, and worse, not only does she wind up stuck in Seattle, she's still living (figuratively) with her parents. They take the news surprisingly well―after all, it's better than burying her―even helping move her bedroom to the basement. A disinterested sire, distraught friends, nosy Men in Black, and awestruck younger siblings complicate her adjustment to the new normal of being an immortal still subject to her parents' rules. Undeath has its perks, but it also brings enemies. Without a copy of 'Fangs for Dummies,' Sarah's left scrambling for answers when one such new enemy attacks her siblings and friends. If she can't figure out how to vampire, her attempt to spare her family the grief of losing her may wind up killing them.
A Nighttime of Forever
Word Count:

50655
Summary: 'Old actors never die' shouldn't be literally true. Carrington Loveless III, skim-blood vampire and senior officer of Philly's paranormal police department, has long suspected that someone's targeting his squad. The increasingly bizarre and dangerous entities invading their city can't be a coincidence. So when a walking corpse spouting Oscar Wilde attacks one of his officers, Carrington's determined to uncover the evil mind behind it all. As a rare books librarian, Erasmus Graham thought he understood some of the stranger things in life. Sharing a life with Carrington has shown him he didn't know the half of it. They've survived attack books and deadly dust bunnies together and got through mostly unscathed. Now his world and his vampire's appear ready to collide again. Books are missing from the Rare Book collection—old tomes of magic containing dangerous summonings and necromancy. He's certain whoever has been stalking the Seventy-Seventh is composing their end game. It's going to take a consolidated effort from paranormal police, librarians and some not-quite-authorized civilians to head off the impending catastrophe.
All The World's An Undead Stage
Word Count:

90000
Summary: Charlie's life force is fading. His only hope is an aged martial arts master in the remote reaches of China who, as far as Cappa can tell, doesn't like him very much. While Charlie and Cappa are away from Z-Tech, William has been raising an empire of his own — one determined to crush any who interfere with his plans for world domination. Worse, he's sided with the only other organization who had almost succeeded in erasing Z-Tech from the global market, pitting Anne and her friends in a desperate struggle for survival. The enemy has the advantage of numbers, but Z-Tech has Zima — a one-person army in her own right. Only time will tell if she's enough to offset the overwhelming forces set against Z-Tech, and if San Francisco will survive their battle.
Angels Fall
Word Count:

107000
Summary: An ancient evil in Anne's head aims to ruin her tranquil life and end humanity. It must be Tuesday. A house of her own with a white picket fence, complete with a loving partner, Anne Perrin finally has the life of her dreams — including the job she always wanted and a caring family to share it all with. But every Eden has its Pandora's Box. Anne's personal heaven is marred by a malevolent presence in her head who, if given a choice, would use her to usher in a dark age, ending humanity as she knows it. The only thing holding it at bay is an unpredictable computer implant in her chest that seems to have its own agenda. Two unexpected visitors turn Anne's delicate world upside down in completely different ways — one better than she could have ever hoped, one catastrophically terrible — pitting Anne in a nightmare battle against the very people she holds dearest: her family.
Angels Found
Word Count:

144000
Summary: Ancient evil meets modern-day waitress — and a mysterious organization known as Z-Tech. Anne Perrin is resigned to a life driven by an adolescent trauma — a strict routine, no socializing (outside of the safety of her waitressing job), and no romantic relationships. Determined to change her life before it's too late, Anne's first date in a decade turns into a struggle of life-and-death, plunging her into a world she didn't know existed, where super-science may be humanity's only hope against an ancient threat.
Angels in the Mist
Word Count:

101000
Summary: A vampire hunter has his sights on Anne Perrin, threatening to unleash the very evil she and her friends are fighting to contain. Robbing Anne of her pulse hasn't stopped her from living un-life to its fullest: she's balancing two relationships, has returned to her waitress job, and is trying her best to not eat her customers. But Calum sees through her disguise, and no amount of charm can dissuade him from eradicating Anne and everyone like her from the face of the Earth. While Charlie is out of the country seeking help from the one person who might be able to save his life, Anne is abducted, leaving the rest of the Z-Tech crew with the desperate task of finding her before the vampire hunters finish her off — or a grief-stricken Zima destroys the city looking for her lost love. But Anne's abduction could be just the first part of a larger, darker plan that may unwittingly unleash the very plague Calum seeks to prevent.
Angels Lost
Word Count: Information not available
Summary:
Withrow Surrett, cantankerous vampire lord of North Carolina, is passing the long winter nights of the off-season in the sleepy resort town of Sunset Beach. When the nights are long and humanity slumbers, where else would a vampire go but the beach? This is no mere vacation for Withrow and his cousin Roderick, though. They're hunting down a nest of nasty elder vampires who want to take over the world!
Of course it's not that simple, because for Withrow nothing ever is. Withrow and Roderick - and their team of frienemies, rivals, and allies - soon learn there are stranger things afoot than vampiric machinations among the dunes of Sunset Beach: mysterious mortals, twisted sorceries, and fleeting apparitions. Through sabotage, espionage, and bare-knuckled brutality Withrow must find and stop the elder vampires before they play the ace up their sleeve!
Kick back in the sand with the fourth installment of this vampire and urban fantasy series, perfect for fans of Rick Gualtieri, Jeff Strand, or Christopher Moore.
Attempted Immortality
Word Count:

75000
Summary: Sleepwalking may be the death of me… again. I thought things would get better now that I no longer had assassins after my head. Although it's fun eating people who misgender me, I'm just so thirsty all the time. And until I improve, I'm barred from seeing Jack, my were-jackal boyfriend. My babysitter, I mean 'vampire mentor,' isn't much help either. As if things weren't bad enough, the amulet that started this mess is whispering to me. Calling me somewhere. I think it might be my mysterious maker. Judging by the trail of bodies they're leaving across the globe, I don't want to know what will happen if I can't keep resisting.
Bloodline of the Ancients
Word Count:

76600
Summary: Werewolves are apex predators. So why does she feel like prey? Territory, honor, the trust of her peers - Jordan Abbey has earned none of these from the supernatural residents of Rancho Robles. The werewolves shun Jordan as a creature without honor for siding with the vampires. The vampires dismiss Jordan as an unruly pet who needs to be kept on a much shorter leash. Chased out of the wilderness and not allowed to shift within the city, she is without any place for her inner wolf to run free. Someone is killing the servants of vampires. Soon vampires themselves fall victim. Each attack is linked directly to Jordan, fueling rumors that she is working to undermine the vampires' grip on the city. The werewolves dog her steps, harassing her whenever and wherever they can. Then, in the heart of vampire territory, the corpse of a werewolf who bullied Jordan is discovered. The children of the Wolf and the Bat are ready to go to war, and Jordan is caught squarely in the crossfire. Can one woman prevent the annihilation of the only place she calls home?
Chaos Hunt
Word Count:

10000
Summary: How far would a werewolf go to help a friend? Werewolves and dogs don't usually get along, but Jordan Abbey has formed a bond with her elderly neighbor's Rottweiler. So when Rex goes missing during a dog-walking mishap, she's determined to return him home. With her abilities, finding him should be easy. Except there is one problem. The vampire lord of the city has declared she's not allowed to shape-shift within the city limits of Rancho Robles. Better to ask forgiveness than permission, or so Jordan thinks. But there is another issue she has to face - Animal Control. Rumors are getting around about wolf-like dogs wandering the city, and they respond quickly to panicky stray dog calls. Jordan knows how to be discreet, or so she believes. Will Jordan be able to find her friend without sacrificing her freedom?
Chaos Unleashed
Word Count:

95000
Summary: Bitten by a werewolf. Taught by a vampire. At this rate, she's going to start a war. Literature major Jordan Abbey ordered a double mocha latte, but it wasn't supposed to come with a side order bite by a love-sick werewolf. When a vampire comes to her rescue, gut instinct tells her he has questionable motives. But he's the only one she can trust to help get in touch with her inner animal. Within a week, her smart mouth lands her in trouble with the hostile alpha of the local pack and the stiff-necked vampire elder. She now has less than a moon cycle to master shape changing... or else. And the besotted werewolf who started this whole mess is stalking Jordan and killing her friends. He won't take no for an answer. In the Northern California town of Rancho Robles where the children of the Wolf and the Bat share an uneasy coexistence, one woman makes an epic mess of the status quo.
Chaos Wolf
Word Count: Information not available
Summary: I didn't think things could get worse… …but people started dying, and it was my fault. At first, I thought someone was playing a cruel trick on me, but that didn't explain the bizarre truth that defied scientific explanation: I had unwillingly become part of something ominous and evil. I'm not the kind of guy who cries often, and I'm certainly not a killer. I wouldn't even wish death upon my worst enemy, if I had one. But after losing two of my closest friends, I questioned my morals and beliefs: could I kill to survive? I didn't have time to mourn because I needed to discover where I fit in the supernatural world of Vampires, Lycan, and Spellcasters. If the crazy old priest and the Fae were right, then my place is second only to Lucifer Morningstar himself. Children of the Sun is the third book of The Snakeheart Series (Season 1), a supernatural novella series about Dante Coranguis and the ancient prophecy of the End Times.
Children of the Sun
Word Count:

72000
Summary: Vampires and werewolves live long lives. The Sleepless City saga might have ended but the story continues… Welcome to the Vampire Guard, where legend and myth meet science and technology.   Vampires make the best spies. Throw a smart-mouthed werewolf in with three vampires, mix well, and The Vampire Guard's newest team is bound to become one of their greatest assets. Super spies with a full range of skills. Warrior, hacker, thief, and scientist.  They get in, do the job and get out before the bad guys ever know what hit them. Forge, Blair, Declan, and Lucas are thrust into the world of high-tech spies and top-secret espionage conspiracies. Recruited into the world's most elite and secret organization with one singular mission. Protect those who can't defend themselves from ruin. Life becomes complicated when an impending Presidential visit to their town, Boggslake, throws them headlong into the world of the vampires and werewolves of the Vampire Guard. Very quickly they uncover and confront a werewolf terrorist organization known as the Qiguan. Together they must thwart an assassination attempt on the open waters of Lake Superior while tracking a previously unknown biological weapon controlled by the Qiguan—a weapon which may very well mean death for one of them.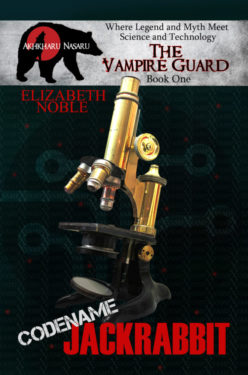 Code Name Jack Rabbit
Word Count: Information not available
Summary: The world of Avern has moved on. It has been almost a thousand years since the day the entire pantheon disappeared. Since the Abandonment, the mortals have learned to live without gods and goddesses. The world became mundane with little magic, and even less hope. Tyrants have risen, and those able to wield what is left of magic are powerful. Forces surge in the darkness that threaten to topple the already fragile world. The plight of the world of Avern is not unknown, however, and those that watch from a distance have decided to intervene. The mortals are sleeping, however, unknowing that two great powers will soon by vying for control.Then something happens that changes things. A young princess makes a bid for power by murdering her father. She then attempts to murder her sister, the crown princess of Lineria, Keiara. Despite a true strike, aided by dark powers, Keiara doesn't die. Instead, the strike pierces the barrier between her human soul and the soul sleeping within her, the soul of the Dark Phoenix. More than a goddess, the Dark Phoenix is the legendary mother of the gods. She is a part of the Eternal Phoenix that brought life to their world eons ago, one of the primal forces of the cosmos.
Dark and the Sword
Word Count: Information not available
Summary: Lucifer has been waiting for me to awaken… …and now I welcome the growing darkness inside me as I become who I'm meant to be. The Vampires are afraid of me, the Lycan want to disembowel me, the Spellcasters want to harvest my power, the Fae want to control me, and the Roman Catholic Church wants to murder me. The Soul Hunters… well, who knows what they want with me. I've never been on the run from anyone before, but after I started running from the Devil, I decided the only way to survive was to run back to him and embrace the evil power within and claim my destiny. My name is Dante Coranguis, but you might know me as The One, the Herald of Satan, or the Antichrist. From here on out, you can call me Snakeheart, the most feared man throughout the ages. Darkness Awakens is the sixth book of The Snakeheart Series (Season 1), a supernatural novelette series about Dante Coranguis and the ancient prophecy of the End Times. Get it now.
Darkness Awakens
Word Count:

110100
Summary: Nate's no supernatural expert, but even he knows a murdered man coming back to life to kill him can only mean one thing—the necromancer is back and out for revenge. Recruited by Department Seven in a desperate attempt to stop Peter before he claims new victims, Nate quickly realizes he's in way over his head. His powers are failing him, he's haunted by Peter's ghost, and he can't even remember how he stopped Peter the first time—or why he feels that someone very important is missing from his life. Ben is fighting for his afterlife. Trapped in the supernatural version of solitary confinement, he knows freeing himself will destroy New Camden's fragile peace—but what choice does he have? The longer he spends in his magical prison, the harder it becomes to resist his inner vampire. But if Ben wants to help Nate prevent Peter taking over the city, he has to prove himself to his sire—Saltaire, a thousand-year-old vampire with no qualms about using his immense power to suppress Ben's free will. As the casualties mount and the city descends into chaos, Ben and Nate must overcome their worst fears and impossible odds—or be written out of existence entirely.
Dead Wrong
Word Count: Information not available
Summary:
Durham, North Carolina has industry, commerce, fine universities, a world-famous baseball team, technopagans, vampires, and its very first superhero and supervillain.
As Withrow Surrett, self-declared vampire lord of North Carolina, digs in to see what's up in his own back yard, two mortals - The Bull's Eye and El Diablo - make headlines fighting crimes and committing them. With the help of friends old and new, Withrow has to track down both hero and villain before his city decides to go looking for even weirder things that go bump in the night!
The fists fly fast and furious in the third installment of this vampire and urban fantasy series, perfect for fans of Rick Gualtieri, Jeff Strand, or Christopher Moore.
Deal with the Devil
Word Count:

73000
Summary: Vampires and werewolves live long lives. The Sleepless City saga might have ended but the story continues… Someone is hunting supernaturals.  Vampire Simon Hawthorne and his human partner Ben Leyton's plans for a peaceful holiday with family are hijacked by the New Zealand Supernatural Council. Tensions are on the rise in Wellington. Supernatural councillors are disappearing. Werewolves are suspicious of anyone human or vampire. If they don't work together, their enemy has already won. And no one with a connection to the supernatural world is safe.
Double Exposure
Word Count:

93000
Summary: Three vampires. Three lives. Three stories intertwined. Bearing the guilt of destroying the holiest of books after becoming a vampire, the Dragon, Lord Desmond searches the world for lost knowledge, but instead, discovers truth in love. Born a slave in Ancient Greece, Alexandra craves freedom above all else, until a vampire sets her free, and then, she must pay the highest price of all … her human soul. An assassin who lives in the shadows, Roquelaure is cloaked even from himself, until he discovers the power of friendship and loyalty. Three vampires, traveling the world by moonlight—one woman and two men who forge a bond made in love and blood. Together they form a band of mercenaries called the Scarlet Order, and recruit others who are like them. Their mission is to protect kings and emperors against marauders, invaders, and rogue vampires as the world descends into the chaos of the Dark Ages.
Dragon's Fall