Word Count:
57000
Summary:
Embracing his inner darkness could be his only chance to save the man he loves…
Ilyas refuses to give up his power. Not in the negotiations with his kingdom's old enemy, and not in his relationship with the man he loves. To keep the possibility of victory all to himself, Ilyas shuts Jem out of the talks and puts their love at incredible risk… Jem can no longer trust his own mind. While Ilyas has helped keep his inner demons at bay, the vessel of the Dark God senses the void growing between them. When the shadowmancer arrives at the negotiations, Jem keeps a close eye on a foe who seems to have won over everyone but him… As Jem uncovers the shadowmancer's true purpose, nobody believes him, including Ilyas. Before a dormant, deadly menace is released, Jem's only chance to save the peninsula and his soulmate is to embrace the monster he was made to be…
Shadowmancer
 is the riveting final installment in a trilogy of LGBT dark fantasy novels. If you like gay romance against all odds, action-packed adventures, and far-away fantasy worlds, then you'll love Olivia Helling's engaging tale.
Buy Shadowmancer to conclude the fantastical love story today!
Shadowmancer
September 15, 2017
Word Count:
47,000
Summary: A collection of tales filled with monsters, be they human or beast, ranging in setting from dystopia to pitch black noir and even general silliness. From the ludicrous to the frighteningly plausible; from deep space to after the end of the world. There are clumsy werewolves and bloody revenge, monster sleep overs and a dieting fad sure to kill your appetite. Whether looking into the past or the future, you're sure to find that stuff gets really weird.
Shotgun Bastards and Other Stories
July 18, 2018
Word Count: Information not available
Summary: What do you do when you're the last of your kind, hunted every day of your life? Become a famous pop star! Dylan Rivers is the last siren in existence. His family were slaughtered by the evil oil barons, his homeland ravaged and stolen from him. He is a target for hatred, the last thorn in the side of those who just want to see him a corpse. For him to survive is the biggest middle finger to his enemies. He could hide in the dark, be terrified of his own shadow, but that isn't Dylan Rivers. Music is Dylan's life, as are the pleasures that can be found with his celebrity lifestyle—good food, beautiful clothes, fabulous parties, and gorgeous men. He particularly enjoys the company of his two favourite bodyguards—a handsome fae and a delicious werewolf—who are always on hand to look after his body in more ways than one. Something is stirring… Pleasure of the flesh drowns out pain, pushes away the sting of broken memories. He cannot fully remember what had happened to bring down his once glorious realm, but one day the opportunity to discover the full truth presents itself, and everything points to him. Dylan must travel the river of prophecy… There is change in the air, whispers on the water. His life is about to be turned upside down, for the idea of hope has risen... The last siren has a debt to pay… Join singing sensation Dylan Rivers in a journey of discovery, danger and seduction! A dark and steamy urban fantasy tale, with a Why Choose? MM romance. *This series is set in the same universe as Coldharbour Chronicles. However, there is no need to have read that series to enjoy this one.*
Siren's Debt
May 24, 2019
Word Count:
45,000
Summary: Kyle, a young newcomer to New Orleans, is haunted by the memory of his first lover, brutally murdered just outside the French Quarter. Marc, a young Quarter hustler, is haunted by an eccentric spirit that shares his dreams, and by the handsome but vicious lover who shares his bed. When the barrier between these men comes down, it will prove thinner than the veil between the living and the dead…or between justice and revenge.
Skin
November 14, 2017
Word Count:
400000
Summary:
A future king. A slave's last hope. Can a sacrifice become something more?
Ilyas wants someone he can trust. As the heir to a great kingdom, all he can count on is the treachery of his younger brothers as he protects his future throne. When he receives his latest spoils of war, he meets a slave who's different. A slave with a hidden agenda… Jem is the last chance for his people. Shunned by his brethren, he yearns to save them with an impossible task: kidnap Prince Ilyas and sacrifice him to Jem's Dark God. Against all odds, he captures the prince and carts him across the frozen wasteland. Now Jem must keep Ilyas safe for the sacrifice and push down his urges to do more than protect the heir to the throne. Ilyas knows he can't trust the slave, but he feels like he's finally found a man he can love. As their attraction builds, they grow closer to a god that could destroy them both.
Snowmancer
is an LGBT dark fantasy novella set in a far-off kingdom. If you like unpredictable plot twists, rich descriptions, and tantalizing chemistry, then you'll love Olivia Helling's incredible tale of adventure, sacrifice, and love.
Buy Snowmancer to warm up to a forbidden love story today!
Snowmancer
June 23, 2015
Word Count:
23000
Summary: Sophie lives in a most peculiar cottage at the center of the Forgotten Forest, its inside much larger than its outside. You see, the house must be large, for it holds a great troll as well as a little girl. As one might expect, working for such a creature is rather frightening to a seven-year-old, but the endless expanse of black trees outside is even scarier. She's afraid to make even the slightest sound, for the troll abhors loud children.   He's not terribly fond of quiet children either―unless they're in his stew. Sophie's precious light offers comfort in her darkest moments. She can't remember where it came from, but it's her only source of hope holding back the gloom that yearns to devour her soul. Trolls are covetous beasts, and when he spots her shiny bauble and steals it, Sophie faces two terrible options:   Stay and suffer the wrath of a furious troll, or take her chances in a forest of her deepest fears.
Sophie's Light
April 6, 2018
Word Count: Information not available
Summary: On a parallel Earth called Kale-Ra, humans born under "star signs" are blessed with magical powers. Two factions exist: the Star Guardians, and the Shadow Guardians. Clarabelle Stewart is your average teenage girl. She doesn't have any hobbies, and manages a C+ average in most of her classes. At least, she would be average, if not for her late father. He betrayed the government while attempting to steal a treasure for a Shadow Guardian terrorist organization, the Penumbra. Ever since his death, her family has been scorned and marginalized. But when the Starlite Academy--a prestigious military school for aspiring Star Guardians--grants Clarabelle a full-ride scholarship, she realizes that this is her opportunity to turn her life around. She eagerly sets off for school, and meets a wonderful group of friends. Yet, some things are still... off. Her teacher, Slade, and her roommate, Wulfgar, claim that they know her from their past, but she doesn't remember them. And Ursula, the bubbly senior student who welcomed her into their friend group, is hiding her own set of dark, tumultuous secrets. Unbeknownst to them all, weaving backwards through the years, a sinister plot has taken hold, setting the course for each of their lives. And suddenly, the world turned upside down. Nothing is what it seems.
Star Guardians: Legend of the White Nova Volume 1
April 22, 2018
Word Count:
125350
Summary: I emerge from the Deepearth for the first time, blinded by searing light. Vast lands beyond my comprehension await me. I will face them pregnant and alone. My Sisters and I have been compelled to take missions in this uncharted wilderness. By order of our Queen and the abyssal power which backs Her, we cannot refuse. For the slimmest chance of success, we must move beyond each other's reach with little knowledge to aid us. The Valsharess predicted we would never see each other again. When a sisterhood has no demons but each other, what are we to this new land once we've been split apart? Etaski's fantasy world breaks wide open in Surfacing, as the Sister Seekers epic rises to the next level. Beneath the unforgiving sun, webs dissolve into dreams, and scattered shards of dark history wait to be picked up and pieced together.
Surfacing: Sister Seekers 4
April 4, 2020
Word Count:
6000
Summary: The Mother Dark. The Chained Goddess The Serpent of Judgment In the space between the Realm of Mortality, the Expanse of the Celestial Choir, and the Void, Shi Coils around Hir throne. Hir opelecant gaze looks not to the singing stars nor the great black ocean of lucious agony. Instead, they look to the chains that bind the Goddess to this place. They were at first chains of sadism and dark intent. Every link forged by the Void to keep her from the love of Hir children in Mortality. Yet as she undulated within their grasp, her own sensual mind learned their construction. Now Shi is no longer a Goddess in chains, but a Goddess of chains. Forging new links in secret, Shi imbues them with the stories of Hir many children. Hir mystical eyes look into the glowing loop of eldritch metal. The patterns of silver-blue that formed as it cooled told the story of a love triangle that defies the boundaries of normality. A deathly howl echoes into the night, a young girl is visited in her dreams by the wolf's immortal spirit. He teaches her of his kind, the Uadeans. As she grows up, the wolf becomes more handsome to her own maturing sentiments, and she falls in love. Yet this love was not meant for the wolf, but for his mate. Now, years after, Jenova stands at the edge of life and death. Having earned her right to stand with the others of the pack, the woman prepares herself for the Heartsblood Rite. She must challenge one of these lycanthropic beings to ritual combat. The prize is the Heart of an Uadean and all the power that comes with it. Jenova faces her opponent in the ritual circle, the lust of the crowd overwhelming her human senses. She has not intention of killing tonight. The heart offered as the prize is that of the she-wolf Jenova had been chosen to love... And to bear the children she cannot.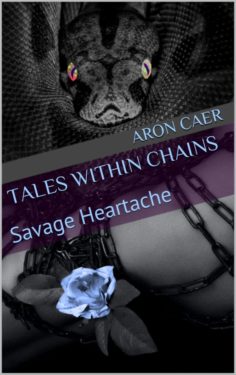 Tales within Chains
September 23, 2020
Word Count:
70,536
Summary: When history meets horror, will evil prevail? Terror in Time is a collection of nine eerie tales of the macabre and the unexpected that will chill you to the bone. From Celtic lore and ancient evils, to ghosts, voodoo, and legendary creatures, these stories are sure to please the horror enthusiast and history buff alike. It even includes the obligatory spoof taking zombies where no zombie has gone before! So lock your doors and turn up the lights, for you never know what evil lurks in the shadows, and settle down for a good night of exploring the darker side of history and the human mind.
Terror in Time
October 9, 2019
Word Count:
98000
Summary: The Big Cinch embeds readers in a magic-laced St. Louis, once known as Mound City, home of the indigenous Americans' Mississippian ancestors. Little evidence of their civilization survives in 1924, apart from the popular Piasa monster image, invoked to sell plows as well as ornament civic pageants. Sean Joye, a recent Irish immigrant, tried to avoid fae attention and ignore his magical abilities since childhood. A young veteran of 1922's Irish Civil War, he aims to atone for his assassin past and make a clean life in America.  Sean helps a wealthy, powerful, magic-dabbling family—founders of the most exclusive club in town, the Piasa Lodge--with a discreet inquiry or two. Sexually involved with a secretive, high-society flapper, he falls hard for her fiancé, a Great War flying ace with a few secrets of his own. But Sean asks the wrong questions about a kidnapped toddler and missing Native American artifacts and becomes a suspect in his lover's bludgeoning and a tycoon's murder. Can he master the paranormal abilities he's rejected for so long in time to protect the innocent and save his own skin?
The Big Cinch
December 31, 2021
Word Count:
138400
Summary: I've embraced bonds I've never known with the Red Sisters, even as I risk condemnation for a secret I keep. A talent unique among Dark Elves and too much like our enemies. Hard at play in the wild underground tunnels outside of my city, I discover a magic-laden passage guarded by a twisted Drider. Though I escape with my life, the Sisterhood cannot deny my presence in this forbidden lair. The Priestesses and the Valsharess must be informed. I am caught in the cascades of revelations which follow. Cruel practices and centuries-old terrors arise when I am called to serve the Priestess Wilsira and her demon-blooded son. I am not the first to confront the true faces governing the city or the consuming power of the Sanctuary, but my hidden talent reveals blind spots ignored by my elders, vulnerable and venomous at once. Can I pay the costs when weighing my submission with resistance? Will I choose my battles well, aiding my Sisters to alter the Matriarchy in our favor over the Priesthood? Or will trying see me fall prey to the hungers of the city's worst monstrosities like so many young fighters before me? In The Daedal Pit, intrigue and horror, action, and drama weave Etaski's third act of the Spider Queen's web into a consummation of promise catapulting one determined survivor to a place she could only see in her dreams.
The Daedal Pit: Sister Seekers 3
September 26, 2019
Word Count:
7500
Summary: Ousting this demon has nothing to do with holy water—it's all about a steady hand on the dagger. Mary Evans' blood pooling in the cobbled streets beneath her corpse symbolizes everything DuHarren hates about his contract with the demon Tamuel. After two and a half centuries of a lucrative, but usually boring and occasionally horrifying partnership, he wants to get out of the deal, and he doesn't mind dying to do it. He fears only the prospect of Hell's fiery brimstone. When Father Michael—a beautiful but angry green-eyed priest—performs the latest in a long line of failed exorcisms, the demon is intrigued, but so is DuHarren. Would the priest make a lover? Or better, dare he hope he might at last sever his ties to the demon and escape to a cool, quiet death? Note: By Lou Sylvre writing as Loretta Sylvestre. Lou Sylvre is known for romance and happy endings. Same writer, but beware: this isn't that.
The Demon Tamuel
October 17, 2020
Word Count: Information not available
Summary: As the son of a wealthy man, Enitan Javed has spent his life frivolously—drinking, fighting, and making love. But after his father dies, Enitan is unjustly accused of murdering him and is given the harshest sentence possible. Judged irredeemable, he is banished to the Downs. As even young children know, nothing lives in the Downs except demons who delight in torturing the condemned. Brutalized by the men who transport him to his fate, Enitan has nothing left but his thirst for vengeance. His plummet to the Downs nearly kills him, and Enitan finds himself battered and helpless in a frightening, mysterious land. But many surprises await him there, including a strange man named Rig. And the realization that the demons he must face aren't at all the ones he expected.
The Downs
August 28, 2016
Word Count:
120000
Summary: A woman with the strength to rebel. A shapeshifter who wears the souls of the dead. Together, they face a lethal enemy. Em helped create it. Now she must craft its defeat. In a city owned by industrialists, Em sells her magic to make ends meet. The extraction procedure is brutal and potentially deadly. Desperate for change, she joins an underground resistance movement to weaponize her magic and stop the abuse of workers. Meanwhile, a mysterious voice wakes Ruk from a decades long slumber and compels him to become human. He wants to break free but is torn between his shapeshifter instincts and the needs of the soul that sustains him. On streets haunted by outcasts and predatory automatons, a new danger emerges – an ever-growing corruption of magic and science. Em and Ruk must put aside their differences and pursue it – each for their own reasons. What they discover will forever change their lives… Or end them. The Eternal Machine is set in a 19th Century alternative reality Australian city, where magic and science are equally valid disciplines.
The Eternal Machine
February 14, 2022
Word Count:
148000
Summary: I've confronted the half-blood mercenary who has what I need to find Jael, wherever she may be. Neither of us will leave until we reach a bargain which yields what we most desire. The Dragonchild has brought me into a city he knows to its foundations, where I am at a disadvantage. My devout Deathwalker may be content to wait for the coming war between Manalar and the Ma'ab, secure in his value to a newly revealed influence in the conflict, but my position seems neither secure nor desirable to anyone but me. I must dig deeper into the motives of all involved, including my own, to convince the Guild's leaders to lend me their vast knowledge and far reach within strangely familiar plots. I have to succeed for Jael's sake, for she is my only sister left. In The Guild's Design, outcasts from the Deepearth dare to reveal resolute hopes waiting within quiet hearts. This time and opportunity must not pass them by, lest the promise of war rend their chances for a future beyond the next conflict.
The Guild's Design: Sister Seekers 7
March 17, 2022
Word Count:
13,300
Summary: England, 1834. On the night of a harvest moon, in the shadows of late autumn, Malcolm comes across a quaint village tucked away in the forest. It seems the perfect spot for a weary traveller to lay his head, and maybe find a little company. But there is dark magic afoot, and lots of local gossip swirls around the seductive titian-haired weaver, Daniel. All Malcolm seeks is a night's pleasure. He never suspected he would have to worry about losing his life. Or his heart. This novelette is about 14,000 words in length and the first entry in the Darkly Enchanted Romance Series.
The Harvest Moon
September 23, 2019
Word Count:
90000
Summary:
Jack Hansard is the man who can sell you anything. Luck in a bottle, fame in a box, dreams on a leash... anything is possible when you're a trader on the occult Black Market.
Jack is used to a life of handling dangerous goods, dodging disgruntled customers, and sometimes running away very fast. But when Ang (a two-and-a-half-foot tall coblyn right out of Welsh folklore) buys his help to find her missing kin, Jack suddenly finds the goods are riskier, the customers more treacherous, and escape is anything but guaranteed.
The Jack Hansard Series is an episodic urban fantasy with a wide streak of humour and a lot of British folklore. Season One contains the first fifteen episodes in the series.
The Jack Hansard Series: Season One
September 27, 2020
Word Count:
83000
Summary: For Jack Hansard, Purveyor of Occult Goods, things are looking up. With the coblyn Ang as his new business partner, he has a solid friend to back him up in every dangerous situation. Together the pair face shapeshifters, piskies, and ancient magics in their quest to track down Ang's missing kin. A new lead means the trail is about to get a whole lot hotter. But when an old enemy presents Jack with an offer he can't refuse, will he risk Ang's trust to see it through? Read Jack's latest misadventures to find out what happened to the missing coblynau, and discover how Jack's past is entwined with the true nature of the sinister 'Baines and Grayle'… The Jack Hansard Series is an episodic urban fantasy with a wide streak of humour and a lot of British folklore. Season Two contains the next 14 episodes in the series.
The Jack Hansard Series: Season Two
January 11, 2022
Word Count:
71000
Summary: A terrible secret. A vengeful empress. An unstable empire. Sir Corbin, retired Hero of Jerkum Pass, dies on the eve of an urgent mission. His granddaughter Kelsa dons the old man's armor and his wrinkles and sets out to complete his last quest. She ventures to the capital of the Iron Empire. The city is in an uproar. The emperor has been slain by rogue mages. The new empress is livid. Now, every mage is suspect, including Kelsa's mother. Hidden behind a magic ring, Kelsa infiltrates her grandfather's regiment. The bonds between retired army mages and cavalry have begun to crack. Only Sir Corbin can mend the breach. Caught between the dark suspicions of an old friend in the cavalry and the lustful advances of a mage ex-lover, the disguised hero struggles to live up to her grandfather's shining legacy. Yet the longer she tiptoes in his shadow, the more tarnish she uncovers. Can Kelsa complete her quest before the descending wrath of the empress and Corbin's sordid past expose her? Unravel The Knight's Secret, the first epic fantasy romance of The Mage Conspiracy series. Discover a world of entanglements and intrigue where lies cut deeper than any sword.
The Knight's Secret
April 8, 2018