Word Count:
19696
Summary: What happens when porn star "Big Johnson" Galt decides to stop the engine of the world? Can a mystery novelist/magician find true love while solving The Wodehouse Murder Case? Will a plucky small-town Satanist be able to make it in the cutthroat world of Satanic lifestyle publishing? Can a savage Cimmerian barbarian win a proper 1800s English woman or will The Sword of Darcy fail them both? Atlas Shagged is a collection of humorous fantasy stories that I've published in various magazines, plus the all-new title story. The hard copy edition has several added stories.
Atlas Shagged
April 9, 2018
Word Count:
135000
Summary: I am the dark foreigner among pale-skinned mercenaries, crossing exposed grasslands. My only ally is a sinister scholar hiding scars from past rituals. He alone knows I carry a child. Each day assaults my senses and leads me farther away from home. Inevitably, my mission will lead out of isolation to the first Human settlement in my path. With few watching my back and more tempted to exploit it, I wade into an unforgiving test of my training and vigilance, determined not to be pulled down. Twisted portents and pious zealotry expose danger in every direction, while new, threatening dreams of distant sands muddle my Queen's past with my present. As all close in around me, I must find a way to serve the Valsharess and slip free of man-made chains which would enslave me. In Black Witch, Death Mage, far-reaching threads and mystical visions constrict to bind those within it, pulling the tales of present and past closer than they've been in thousands of years.
Black Witch, Death Mage: Sister Seekers 5
December 6, 2020
Word Count:
82000
Summary: The Blackwood Pack saga begins…Follow the journey of the Blackwood Pack, seven brothers who are wolf shifters in search of their fated mates – stories about love at first sight with twists and turns, angst and humor, romance and adventure. Each book has two men who meet, fall in love, mate and achieve an HEA but the stories also chronicle the continuing saga of the Blackwood Pack. For more than 100 years, Steel, one of the last Dire Wolves, has been looking for his mate the Fates promised him. Discouraged after meeting his latest date, he takes a short cut home, seeing in a naked hitchhiker everything he envisions the man of his dreams to be. His wolf and body tell him the man is his fated mate but why can't he pick up his scent? Robbed of his car, clothes and money, Jackson, Alpha of the Blackwood Pack, is left with no choice but to thumb a lift, frantic to get home to his six brothers. He's been protecting them from a rival pack who massacred most of his family and wants to finish off the rest. When Steel rolls down his window, Jackson knows he's found his fated mate but it would be too dangerous to claim him with his pack under attack. After the intervention of an Oracle and a Witch, Jackson finds the Fates gave him an unusual gift that made him unique-- and just for Steel. Navigating the mine field this revelation brings, Jackson and Steel must figure out how to make their relationship work while dealing with external forces determined to kill them and the rest of the Blackwood pack.
Dire Warning
October 23, 2017
Word Count:
80000
Summary: What if there were a place that nobody else knew about – a secret place – where everyone was queer?" That's the question Guy, an elderly, lonely gay anthropologist asks Richard, his young psychiatrist, as he searches for his tolerable truth. During each session, Guy tells Richard a story in which he survives the sinking of a cargo ship and is washed ashore on an uncharted tropical island along side the ship's first mate, Luca. There, the two young men discover a world counter to everything they have ever known – a complex society in which almost everyone is homosexual and sex is considered the most basic form of communication. In his naive, awkward way, Guy attempts to integrate himself and win the love of a local man but first he must undergo a brutal initiation ritual, endure a crazed shaman, and swim across shark-infested waters. Meanwhile, Luca, who is unable to accept his sexuality, becomes obsessed with being rescued and degenerates into drug dependency. When Luca attempts to steal a large stash of gold salvaged from an old Spanish galleon and leave the island, Guy is forced choose between staying with the man he loves, or saving the life of the man who saved his. For more than 40 years Guy has been consumed by his longing to return to the island and recapture what he believes he has left behind. Although enthralled by his tale, Richard must be constantly wary of Guy's attempts to manipulate him and meddle in his personal life, threating to upend his own sense of truth, leaving him to question if there could really be such a society, or does it only exist within the fantasy of a lonely old gay man? Rich with legends inspired by ethnography, this is a story within a story; the two collide when the depth of Guy's subterfuge is revealed.
Eating the Moon
May 3, 2021
Word Count:
80000
Summary: #Epicfantasy #Otherworld #Riteofpassage #Actionadventure #Highheat Two rites, one fate. The son of a Voce healer and a Dracan warrior, Falric Mislan has always questioned where he belongs. While obligation, the easy companionship of his peers and the unswerving loyalty of his best friend has kept him grounded in his father's culture, the alluring magic of his mother's people inexorably calls to him. Two rites stand between Falric and his fate. One, a simple, but unfamiliar ceremony that will awaken his Voce powers. The other, the Moon of Solitude. But when Falric uncovers a dangerous object, death and vengeance threaten his place and his future. Secrets abound and more than loyalties will be tested. *Moon Rite is the first book in the Legend of the Ancients series. The books of Locurnia are LGBTQ inclusive and contain explicit material. This series is intended for adults 18 and over.
Moon Rite
September 28, 2020
Word Count:
125650
Summary: My sister broke her neck, and the Red Sisters suspect I pushed her. They're watching me now. I'm afraid but also ready for them. I am too young to be trapped in the most wretched spot of any scheme: accused of killing the Matron's heir. Dark Elves live for intrigue in our underground city of Sivaraus, and justice means nothing to the Red Sisters who enforce the Queen's edict. Yet, I know the rules bend for the cunning and the bold, if only I can seize on the aspirations of those who succeeded before me. I must confront what lies beneath the ravening eyes of the Sisterhood, for they will give me no choice. I must discover that which is unspoken as they gaze at me. If I would thrive in pervasive webs of conspiracies, I must fight to reweave my place within them. In No Demons But Us, A.S. Etaski spins the first threads of an intense and epic tale, in which the trials of a young Davrin test her resolve to rise from the depths of the fear and hatred tearing her down. Sister Seekers is adult epic fantasy series with an ever-broadening scope, perfect for fans of entwined plots, challenging themes, elements of erotic horror, and immersive worldbuilding. Sexuality and inner conflict play into the character growth with intrigue, action, and fantastical magic.
No Demons But Us: Sister Seekers 1
August 8, 2018
Word Count:
94560
Summary: Leah Corybn was a regular mail carrier who thought she had been bitten by a dog, until the next full moon revealed that she had become a werewolf. After months of hiding her secret in the city of London, she is about to learn she is not alone. As she attempts to navigate a world she never knew existed, can she find her place among the wolves of Londinium, or will she fail to prove herself in time?
Orphan's Cry
February 26, 2022
Word Count:
48821
Summary: More than fifty years before Leah Corbyn became a werewolf, Amélie Orne was cast out of werewolf society, manipulated into taking the blame for crimes she did not commit. After living for so long on the run as a Feral wolf, she found unexpected comfort and companionship from Leah and her lover Amy Oakley. As they grow closer, can she dare to hope for a real future together with them after a lifetime of betrayal and misery? Amélie has allies to stand with her now, but it will mean uncovering secrets long buried, and reopening dangerous old wounds...
Outcast's Song
April 23, 2022
Word Count:
58161
Summary: So what's a young gay boy living in the eighty's from suburbs of Dayton, Ohio to do, when he comes out to his family, only to finds out his family has been keeping their own secrets. Jason Wynwood just turned 18 finding out he is in a long bloodline of witches. As Jason searches for love, he falls for a mysterious black haired gentleman named Damien. Jason is thrown into a dangerous world of magic with witches, vampires and werewolves, and a glittery nightlife sexual pleasures. He also discovers Young gay men have been turning up dead at rest stops all over surrounding areas. Police suspect that it's the work of a serial killer. But when a friend ends up dead it becomes personal. Can Jason find the killer before anyone else turns up dead?
Skeletons in the Closet
SALE
August 14, 2020
Word Count:
125350
Summary: I emerge from the Deepearth for the first time, blinded by searing light. Vast lands beyond my comprehension await me. I will face them pregnant and alone. My Sisters and I have been compelled to take missions in this uncharted wilderness. By order of our Queen and the abyssal power which backs Her, we cannot refuse. For the slimmest chance of success, we must move beyond each other's reach with little knowledge to aid us. The Valsharess predicted we would never see each other again. When a sisterhood has no demons but each other, what are we to this new land once we've been split apart? Etaski's fantasy world breaks wide open in Surfacing, as the Sister Seekers epic rises to the next level. Beneath the unforgiving sun, webs dissolve into dreams, and scattered shards of dark history wait to be picked up and pieced together.
Surfacing: Sister Seekers 4
April 4, 2020
Word Count:
6000
Summary: The Mother Dark. The Chained Goddess The Serpent of Judgment In the space between the Realm of Mortality, the Expanse of the Celestial Choir, and the Void, Shi Coils around Hir throne. Hir opelecant gaze looks not to the singing stars nor the great black ocean of lucious agony. Instead, they look to the chains that bind the Goddess to this place. They were at first chains of sadism and dark intent. Every link forged by the Void to keep her from the love of Hir children in Mortality. Yet as she undulated within their grasp, her own sensual mind learned their construction. Now Shi is no longer a Goddess in chains, but a Goddess of chains. Forging new links in secret, Shi imbues them with the stories of Hir many children. Hir mystical eyes look into the glowing loop of eldritch metal. The patterns of silver-blue that formed as it cooled told the story of a love triangle that defies the boundaries of normality. A deathly howl echoes into the night, a young girl is visited in her dreams by the wolf's immortal spirit. He teaches her of his kind, the Uadeans. As she grows up, the wolf becomes more handsome to her own maturing sentiments, and she falls in love. Yet this love was not meant for the wolf, but for his mate. Now, years after, Jenova stands at the edge of life and death. Having earned her right to stand with the others of the pack, the woman prepares herself for the Heartsblood Rite. She must challenge one of these lycanthropic beings to ritual combat. The prize is the Heart of an Uadean and all the power that comes with it. Jenova faces her opponent in the ritual circle, the lust of the crowd overwhelming her human senses. She has not intention of killing tonight. The heart offered as the prize is that of the she-wolf Jenova had been chosen to love... And to bear the children she cannot.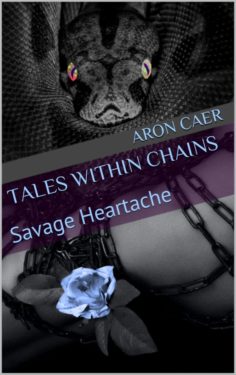 Tales within Chains
September 23, 2020
Word Count:
138400
Summary: I've embraced bonds I've never known with the Red Sisters, even as I risk condemnation for a secret I keep. A talent unique among Dark Elves and too much like our enemies. Hard at play in the wild underground tunnels outside of my city, I discover a magic-laden passage guarded by a twisted Drider. Though I escape with my life, the Sisterhood cannot deny my presence in this forbidden lair. The Priestesses and the Valsharess must be informed. I am caught in the cascades of revelations which follow. Cruel practices and centuries-old terrors arise when I am called to serve the Priestess Wilsira and her demon-blooded son. I am not the first to confront the true faces governing the city or the consuming power of the Sanctuary, but my hidden talent reveals blind spots ignored by my elders, vulnerable and venomous at once. Can I pay the costs when weighing my submission with resistance? Will I choose my battles well, aiding my Sisters to alter the Matriarchy in our favor over the Priesthood? Or will trying see me fall prey to the hungers of the city's worst monstrosities like so many young fighters before me? In The Daedal Pit, intrigue and horror, action, and drama weave Etaski's third act of the Spider Queen's web into a consummation of promise catapulting one determined survivor to a place she could only see in her dreams.
The Daedal Pit: Sister Seekers 3
September 26, 2019
Word Count:
148000
Summary: I've confronted the half-blood mercenary who has what I need to find Jael, wherever she may be. Neither of us will leave until we reach a bargain which yields what we most desire. The Dragonchild has brought me into a city he knows to its foundations, where I am at a disadvantage. My devout Deathwalker may be content to wait for the coming war between Manalar and the Ma'ab, secure in his value to a newly revealed influence in the conflict, but my position seems neither secure nor desirable to anyone but me. I must dig deeper into the motives of all involved, including my own, to convince the Guild's leaders to lend me their vast knowledge and far reach within strangely familiar plots. I have to succeed for Jael's sake, for she is my only sister left. In The Guild's Design, outcasts from the Deepearth dare to reveal resolute hopes waiting within quiet hearts. This time and opportunity must not pass them by, lest the promise of war rend their chances for a future beyond the next conflict.
The Guild's Design: Sister Seekers 7
March 17, 2022
Word Count:
92460
Summary: Conundrum is a guilty pleasure, M/M fantasy novel that asks what you would sacrifice to save your family and closest friends. That's the question Takoda Freeman, a young Native American witch, faces. Takoda puts his complete trust in Russell Sands, a werewolf, who says he can help save his loved ones, ignoring that fact that Russell was his father's nemesis. Takoda risks it all to save his friend and mentor, Jared Mason, from two vengeful Puritans from the past. The ordeal left Jared with the singular longing to change his past. Jared vowed to make it so that he and his father never went to the 17th century when he was a teenager. If Jared successfully changed that event, a new reality would emerge, and Takoda would cease to exist. That sends Takoda on a frightening philosophical journey where he must ultimately decide whether saving his own life is greater than the lives of his friends and family.
The Hallowed Bloodline: Conundrum
September 14, 2021
Word Count:
153,500
Summary: The Guardian is a guilty pleasure, time travel, erotic M/M fantasy novel about twin witches Robbie and Rowan, who take a job at a mineral mining company. They soon discover something is lurking in the darkened mine. Robbie and Rowan are thrown back in time and find themselves stranded in the year 1647 with no foreseeable way back. Robbie is maliciously catapulted forward in time to the year 1918. Separated from Rowan for the first time in his life, Robbie is scared and alone. Robbie finds his young grandfather in post-war Connecticut. He is forced to witness a secret relationship between his grandfather and a man. Robbie learns of the existence of werewolves and knows he will need his brother to help him fight in the battle that has the potential of becoming the next apocalypse.
The Hallowed Bloodline: The Guardian
February 20, 2020
Word Count:
128600
Summary: I escape into a twisted wilderness with a stolen relic protecting me from madness. Behind me is the mysterious stalker from across the plains. He's caught up to us. My sisters are out there somewhere out, and my unborn is here with me. Struggling to tell guardians from beguilers on a warped battlefield, I worry for all our fates. Somehow, I must bear the terrifying risk of bargaining with Surfacers in ways which ensure enslavement back home. No Red Sister can give up her mission when compelled by her Queen to see it through. Surrounded by allies and enemies alike seeking to influence the only free Davrin Elf on the Surface, I must relearn my limits when confronted by those who have none. The true scope of Etaski's saga arises in The Mark of Gold. Tangible peril meets cryptic visions, forcing a driven few to redefine what it takes to break the shackles of compulsion and forge them as bonds of loyalty.
The Mark of Gold: Sister Seekers 6
May 6, 2021
Word Count:
121650
Summary: The helpless Noble I'd once been, she is no more. I am Red Sister Sirana, watching my city from the shadows. Once silent and disposable, I've found a place among the Sisterhood of Sivaraus, coarse, crude, and stirring to my blood. In crimson uniform I walk among sensual consorts, studious wizards, and sadistic Priestesses. I am an initiate with true influence in my underground city, a power both freeing and addicting. Everyone keeps secrets which bind them up if they jerk on the web too hard, and none are more vulnerable than novices wielding new power. Should my own secret come to the surface, I know I can't survive alone. Sivaraus will always need new Red Sisters, no matter what strangeness we bring with us. In Treasure Revealed, A.S. Etaski weaves threads of intrigue and action in this second tale of the Sister Seekers, where a new fighter tastes her potential in new connections that she must dare to strengthen by choice.
Treasure Revealed: Sister Seekers 2
March 29, 2019