Word Count:

80000
Summary: Wounded, betrayed and alone, Cal has escaped to Tarquis, losing everything… again. In Sanquous, dark forces are mustering as it edges closer to all out war. Their leader missing, the Ilfannde face the wrath of the Draguul and their tyrannical High Priest. If ever there was a time for a saviour to arise, it's now. The question is, will she?
The Rod of Xerus
Word Count:

107,680
Summary: Though he is the youngest son of a royal duke, Etan is a scholar at heart, happiest in a library surrounded by his books. He contentedly juggles his work for the prince's government with his studies of the history and legends of Tournai, a subject of particular interest to him because he shares the secret magical Talent that runs in the royal bloodline. However, Etan's peaceful world turns upside down when his best friend—the man he secretly loves—unexpectedly marries someone else. Tristan is the oldest son of a wealthy merchant, raised to shoulder responsibility for the family business one day. That day comes far sooner than anticipated, and he makes a deathbed promise to his father to marry the woman his father chose and become head of the company and family. Tristan values his friendship with Etan and has always been attracted to him, but he can't forsake his duty to his father, even if it means giving up the possibility of having Etan as a lover. A year later, Tristan is a widower with an infant daughter and a mother who demands he marry again quickly—something Tristan resists. Circumstances throw Etan and Tristan together again, but even as they succumb to the desires they've always harbored, Etan battles his feelings, wary of being cast aside once more. When the unimaginable happens, Etan and Tristan must come together and support each other through the ordeal…and maybe beyond.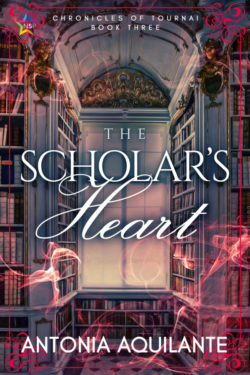 The Scholar's Heart
Word Count: Information not available
Summary: In a world of magic, in an empire built on intrigue and the wealth of metals, a young girl named Amarta must sell her visions of the future to keep her family from starving. What happens when Amarta comes to the attention of those with money and power? Will her visions be enough? In a tapestry of loyalty, magic, and gold, Amarta and her strange ability will become the key to everyone's ambitions. To survive, she must do more than predict the future. She must create it.
The Seer
Word Count:

87000
Summary: In the interstellar kingdom of Valoris, the balance of power has changed. Dressa Rhialden has all she ever wanted—except she only wanted Lesander, gorgeous prince of an enemy high house, not the kingdom meant for her sister. Unfortunately, her betrothal came with both, and now she has a lot of catching up to do. But she's falling hard for Lesander in the meantime, and with her kingdom on the line and Lesander maybe her enemy, is falling in love really a good idea? When alien attacks that shouldn't be possible plague her kingdom's distant worlds, Dressa's new position is put to the test. Why are the pacifist Kidaa attacking now, and were the attacks made by the Kidaa at all? There's more going on than an internal power shift, and she has far more secrets to uncover to keep her kingdom safe. Ari Rhialden had her whole life planned out: excel at being the Truthspoken Heir, controlling her kingdom with her shapeshifting powers, and then one day excel at ruling the kingdom. But when she contracts an incurable illness and loses her ability to shapeshift, those plans are derailed. Ari's sent undercover to a resort world for treatment, but all is not right in paradise. A young gardener with a mysterious past is taking too much interest in Ari's new persona, and a possessive duke is bent on capturing her attention for himself. Are these just the ordinary machinations of noble guests or something far more sinister? In a kingdom where subterfuge is the norm, coincidence is never just that, and now events are rapidly spinning out of control. Can Dressa and Ari find their way to truth before the kingdom comes crumbling down around them? The Shadow Rule is the second season of The Stars and Green Magics, an epic space fantasy serial set in a diverse, queernorm universe with shapeshifting royals, plotting nobles, and space magic! The Shadow Rule collects episodes 37-93, the complete second season. This book has main characters who are queer, nonbinary, trans, agender, genderfluid, ace and/or aro, lesbian, fat, POC, disabled, ND, and generally awesome. (Not all rep is stated, some is implied.) Barring the occasional burst of strong language, this book is PG-13.
The Shadow Rule
Word Count:

52000
Summary: Rescued from slavers, healer novice Jaime Buchanan finds himself alone and free in Pyrderi, a kingdom of magic, mythical creatures, and a culture as open and kind as his homeland was cruel and close-minded. Despite his rescue, Jaime is not left without scars, both mental and physical. Traumatized by his experience and hiding his gift, Jaime struggles to earn his place in the kitchens of Angharad Palace, the heart of Taliesin City. His former life as a student of the healing arts leaves him at a disadvantage in the kitchens, and his damaged state is becoming more apparent by the day. One day, when necessity and fate intervene, Jaime meets someone unexpected—Prince Maxim, youngest son of the Pyrderian king, a sword master and a devastatingly kind man. Unaccustomed to powerful people with compassion and heart, Jaime flees. A cascade of events reveals Jaime's hidden talents of healing, and he finds himself not in chains, but at the beginning of a new life. This swift change of fortune opens Jaime up to new possibilities, including a smitten prince who cautiously courts Jaime, easing him away from his fears and reminding him that compassion and love can make him strong. The winter solstice is quickly approaching, and Prince Maxim shows Jaime the enjoyment and excitement to be found in a land that embraces the ice and cold, and the mysteries of all things magical. He learns to see the man under the royal mantle, and Maxim is more than even Jaime suspected. The winter solstice is nigh when tragedy strikes, and Jaime learns that his past of grief and sorrow can be a pillar of strength for his solstice prince. If there is one thing that Jaime believes above all else, it is in the healing power of love. 51,835 words, 182 pages Gay Epic Fantasy Romance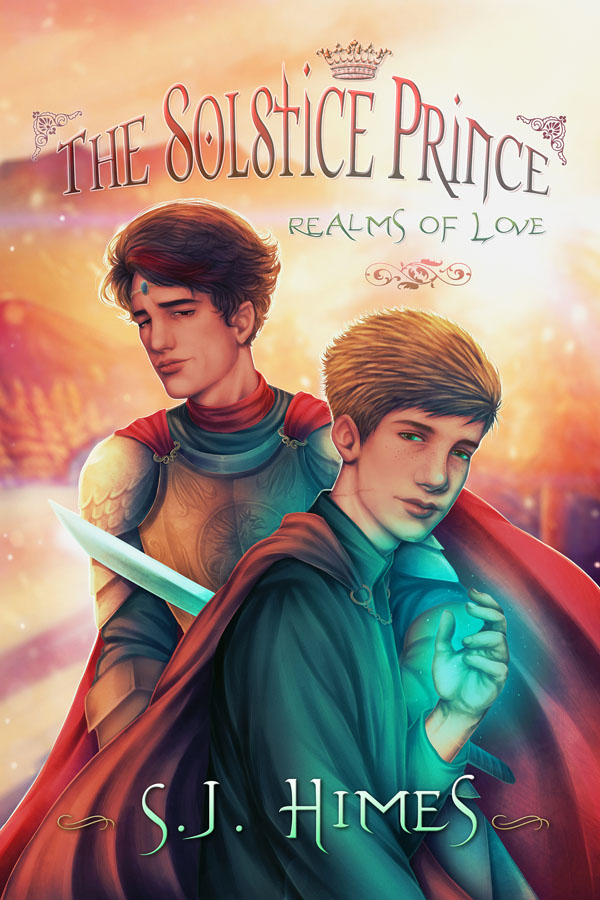 The Solstice Prince
Word Count:

111,309
Summary:
Savarin honed his Talent through years of study, and to achieve his goal of becoming the most powerful and accomplished sorcerer in Tournai, he made magic his life. Among the wealthy and noble circles he moves in, no one would suspect the handsome, refined, arrogant sorcerer's humble beginnings—which is how Savarin prefers it. He wants to be seen only as the man he's made himself. When Tournai's princes task Savarin with studying and strengthening the spells that protect the principality from magical attack, he is more than happy to do so. The spells are complex, centuries old, and exactly the type of puzzle Savarin is eager to solve. But to his annoyance, the princes insist Loriot accompany him on his journey. Second son of a minor noble family, Loriot worked his way up the ranks of the royal guard to captain with single-minded determination and takes pride in his service to the crown. He must obey the prince's orders to protect Savarin, despite believing his skills would be best used elsewhere and his wariness of magic. UnTalented himself, Loriot has learned not only the benefits of magic but also its potential for harm—and how to counter it. He still believes it's best to avoid most magic entirely, which is difficult when he's tasked with playing guard to a powerful sorcerer. Loriot and Savarin clash repeatedly during their journey, but the simmering tension between them doesn't only stem from their work, and passion develops into feelings neither expected. But Savarin must still secure Tournai's magical barrier, and his only solution will endanger both him and the royal family.
The Sorcerer's Guardian
Word Count:

107100
Summary:
Alexander is doing his best to settle into life in Tournai's royal palace after years living outside the country due to his father's diplomatic work.The sense of belonging and home he feels is overwhelming, but none of his plans are going as he imagined. Many see him as only a lovely, charming adornment of the royal court and underestimate both his intelligence and abilities. His attraction to Marcus, a mysterious olderman who does work for the prince, Alexander's cousin, is unexpected butnot unwelcome...if Marcus could possibly see who Alexander really is. Lord Marcus is the second son of a minor noble family, a widower raisingtwo children...and the prince's spymaster. He knows his work isnecessary for the security of the kingdom and its royal family, but he also knows it can be distasteful and dangerous to him and those around him. Marcus has vowed never to fall in love again, never to put anyone else at risk—a promise threatened for the first time by the vibrant, flirtatious Alexander. The attraction is unwelcome and entirely undeniable. Hecan't believe someone like Alexander would want someone like him, but he also can't stay away. As they become ever more entangled, Marcus is investigating rumors ofspies at work in Tournai's university. As he gets closer to uncovering their plot, Alexander is drawn deeper into danger. Can their love survive when Alexander is put in peril by the very spies Marcus is hunting for?
The Spymaster's Secret
Word Count:

67000
Summary: In the interstellar kingdom of Valoris, everyone knows the royal family is watching. They can be anyone and anywhere with their shapeshifting abilities—they are Truthspoken and to be feared. Of course, that doesn't stop the high houses from trying to take them down by any means they can. Arianna is the perfect Truthspoken Heir: beautiful, intelligent, and a master of her shapeshifting craft, determined to one day rule with the same control as her father. Her dreams come crashing down, though, when she's attacked by a rogue Green Magicker at her betrothal to a rival high house prince, when it's known that magickers can't do violence. Was it treachery, was it personal, or was it something else? Arianna has been slowly getting ill for weeks, and Truthspoken don't get sick. Dressa is the second Truthspoken heir and would like to stay that way, thank you very much. She's the glittering socialite of her father's court, more loved than feared. But when her older sister falls ill and is secretly sent away from court, there's still the matter of a much needed marriage alliance with a rival high house—and an absolutely gorgeous prince, who her sister wasn't keen on marrying anyway. When her father orders her to take her sister's place until she returns—her name, her appearance, everything—can Dressa carry on the act without falling for her sister's intended bride? Paranoia around Green Magickers is growing, noble plots are closing in, and in deep space, the only aliens humans have met are showing signs of not being pacifists after all. Can the Truthspoken hold their kingdom against the coming storm when it's already crumbling from within? The Truthspoken Heir collects the first season of The Stars and Green Magics, an epic space fantasy serial set in a diverse, queernorm universe with shapeshifting royals, glittering court intrigue, and space magic! This book has main characters who are queer, nonbinary, trans, agender, genderfluid, ace and/or aro, lesbian, fat, POC, disabled, ND, and generally awesome. (Not all rep is stated, some is implied.) Barring the occasional burst of strong language, this book is PG-13.
The Truthspoken Heir
Word Count:

115300
Summary: The Battle of Albrith is over. The battle for Faneria has just begun. Magic is forbidden in Faneria. That's why it came as a complete surprise when the king's city was attacked by a band of rogue mages. Though they were thwarted, Damian Sires, instrumental in their defeat, is known for only one thing—her magic. She returns home to a cold welcome and an even greater threat looming. For Niabi, servant of the Gods of Light, is amassing an army far to the west. After Niabi fought the Goddess of Chaos in the streets of Albrith with no thought to the damage she caused, Damian knows that this Army of Light spells disaster. Guarded at all times and accompanied by a former mercenary with a dark past, Damian sets out to stop Niabi from wreaking havoc on her country. However, even more dangerous secrets and plots are about to emerge...
The Unseen Force
Word Count:

76144
Summary: Fairy tales. Prince Charming fights evil, wins the princess, lives happily ever after. Three sons, three wishes, witches, dragons, a quest, and happily ever after. These stories are part of our cultural fabric. The stories change in retellings to reflect contemporary culture, such as Princess Charming, or heroes and heroines as people of color. In this collection, queer characters take center stage in stories that grew out of questions: What if the prince falls in love with Cinderella's gay stepbrother? What if Rumpelstiltskin doesn't really want the Queen's child but rather the King himself? What if Beauty and the Beast are two men? These stories explore metaphors of magic and the magical, this time, with a gay perspective. What price must be paid for happily ever after? Duty or love? Is love worth great sacrifice? Once upon a time ...
The Wicked Stepbrother and Other Stories
Word Count:

115,756
Summary: In a post-apocalyptic world where tyranny and medieval torture reign supreme and witch burnings are an everyday occurrence, a top Witchfinder must confront the very Church he serves when he learns of its dark past and twisted plans for the future. The Church of the Deiparous rules with an iron fist and its rising star, Witchfinder Imperator Malachi Thorne, is committed to leading its cause. Thorne is a man on the fast track to greater things so when a convicted traitor and heretic escapes his grip, he won't tolerate it marring his perfect record. As he pursues his quarry, he must confront demons, sorcery, and a cult of witches out for his blood. But when Thorne comes face to face with the Church's dark past and its twisted present, his faith is tested to its limits. Now Thorne must decide who and what he believes in—and what he will do about it.
The Witchfinder
Word Count:

81,000
Summary: Explore the birth of a new world! Journey through time and space to the intricate biosphere of Juno, where three species have been birthed by the gods. First the Kuhifadi, inheritors of sun magic, able to do great deeds with magic stored in their bodies. Second the fearsome Uchafumlaji, technological savants who live in the depths of the ground. Third the weird Ngisikaa, a species uplifted from animals through communal memories. Small decisions and single individuals will affect the tide of history. Learn of the first Ngisikaa to meet death, whether a Kuhifadi will make the sacrifice to become a mage, and if an Uchafumlaji can build a bridge to the past. These stories and more will create The World of Juno! With content by: Nick Bright and Brent Lambert, C.J. Hosack, Nate Battalion, Daniel Eavenson, Malcolm F. Cross, Katie Cordy, William C. Tracy, N.L. Bates, Reese Hogan, Cedan Bourne, Robin C.M. Duncan, and X.M. Moon Genres: Science Fiction / Fantasy / Adventure / LGBT and Non Binary Market: Adult
The World of Juno
Word Count:

78,000
Summary: A new year has begun, and the annual Sower's Festival gala is brimming with Dockhaven's elite and their entourages. Some attend for the spectacle, some for the exotic indulgences, some to augment or gamble away fortunes. Others come to play opening moves in more subtle competitions, ones that will not realize their endgames for months to come. After a winter of convalescence, Aliara Rift wonders whether she is ready to return to the Thung Toh and if her remade body will betray her. Her mate, Duke Sylandair Imythedralin, has many concerns, the foremost being the looming destruction of the only home in which the two of them have truly felt safe. Together they will thwart land barons, politicians, and assassins as they navigate their way through a single day in Ismae's greatest port city. They Eat Their Own is the second Thung Toh Jig, a science fantasy action adventure following members of Ismae's preeminent covert organization as they execute contracts for Dockhaven's most powerful and ruthless citizens.
They Eat Their Own
Word Count:

130,000
Summary: Under the dirty streets of Ismae's greatest port city, an old nightmare waits for Sylandair and Aliara, one that is stealing Dockhaven's children, one only they can end. When the pair escaped their owner and abuser years ago, they left him behind in a ball of blue flame, but as more children disappear near the city's desalinization plant, their suspicions turn to the predator they believed dead. Accompanied by their less-than-reliable puka scout Schmalch, they delve into the forgotten depths of the patchwork city. Their search will lead to a twisting world of corruption and experimentation, uncover horrors greater than any they imagined, and summon memories they never wanted to exhume. A dark science fantasy action-adventure horror, Things They Buried is the first full-length novel of Ismae, a world where science sometimes appears as magic and history as myth, where monsters make themselves and heroes are wholly unintentional. This novel contains adult themes and violence.
Named to Kirkus Reviews' Best Books of 2019
Imadjinn Awards Best Fantasy Novel, Imaginarium Con 2020
Independent Book Publishers Awards (IPPY) Gold Medalist (Fantasy)
Things They Buried
Word Count:

93765
Summary: Home, a place where we belong and are safe and loved. Home, the house in which we grew up, a neighborhood, a culture, even a country. Home is a state of mind, it is a place of the heart, and in the heart. Finding home, coming home, and bringing home the one we love is a journey, a journey that can be a dangerous adventure. For the lovers in these stories, adventures can include quests and fighting dragons and demons, past and present, physical as well as mental and emotional. Rocket launchers need to be dodged, the Wild Hunt needs to be outrun. For some of the lovers here, home has been lost, or they have been forced to leave, as is too common for LGBT+ youth. In this collection queer positive speculative fiction stories, explore the idea of what and where home is in the lives of these lovers. Will they survive their quests, defeat their monsters? Will they find a place to call home?  
To Bring Him Home and Other Tales
Word Count:

118676
Summary: Once upon a time, before the hunts, dragons were plentiful in the world. Now they exist only in legend…except in the land of Ivria. Without the Dragon Talent, Sascha has long been told his only value is his ability to make the best match possible, whether as concubine or husband. He has always done what his family  expects of him, cultivating grace and beauty, and when his parents make a match for him, Sascha goes without protest. He never anticipates being contractually bound to a cruel man embroiled in a plot to overthrow the king of Ivria. Or being confronted by the king himself, a man with whom Sascha is disturbed to find himself fascinated. With help from the few people he can trust absolutely, King Lysander is working carefully to uncover the members of a conspiracy to overthrow him and expose the existence of dragons to the world. Apprehending one traitor only complicates the situation further, not the least of which because of the man's beautiful, intriguing concubine. Who may be involved in the plot and whom Lysander is immediately attracted to. As danger looms, Sascha and Lysander grow closer, but can Lysander trust Sascha with his life and heart? And can Sascha be strong enough to love the dragon king?
To Love the Dragon King
Word Count: Information not available
Summary: Julian Massey has always been sickly. When the young man's parents send him to the seaside town of Urchin Cove to recuperate, he finds himself stranded in a tiny cabin with only the quirky local inhabitants for company. Then a storm blows through, and he finds an unexpected discovery washed up on the beach: an unconscious man. After stealing a treasure, Kit Archer is taken prisoner by a ruthless pirate, Captain Booth. When a storm hits the pirate ship, Kit is able to escape, but not without serious injuries. Jules nurses him back to health, and friendship grows into desire. But Captain Booth is bound to come in search of his treasure and the man who stole it. In a world with dragons, sprites, and wizards, it's going to take more than a little magic for Jules and Kit to find lasting happiness together.
Treasure
Word Count:

121650
Summary: The helpless Noble I was once is no more. I am Red Sister Sirana, watching my city from the shadows. Once silent and disposable, I've found a place among the Sisterhood of Sivaraus, coarse, crude, and stirring to my blood. In crimson uniform I walk among sensual consorts, studious wizards, and sadistic Priestesses. I am an initiate with true influence in my underground city, a power both freeing and addicting. Everyone keeps secrets which bind them up if they jerk on the web too hard, and none are more vulnerable than novices wielding new power. Should my own secret come to the surface, I know I can't survive alone. I won't give up what I've found. Neither will the Sisterhood. Sivaraus will always need new Red Sisters, no matter what strangeness we bring with us. In Treasure Revealed, A.S. Etaski weaves threads of intrigue and action in this second tale of the Sister Seekers, where a new fighter tastes her potential in new connections that she must dare to strengthen by choice. Sister Seekers is dark epic fantasy for adults with an ever-broadening scope. The saga genre-hops a bit so things never get stale. Found Family is a core theme throughout. Perfect for fans of entwined plots, challenging themes, immersive worldbuilding, and elements of erotic horror. Sexuality and inner conflict play into character growth with nuanced intrigue, intense action, and fantastical magic.
Treasure Revealed: Sister Seekers 2
Word Count: Information not available
Summary: Condrie the tavern maid befriends a man on the run only to discover he is a firebird disguised in human form. Together they must elude the tyrant king's relentless forces while seeking the truth of who massacred other firebirds enslaved to the king.
Truth in Cinders
Word Count:

31600
Summary: Can love last when one won't leave, and the other can't stay? Fear of moving farther away from his family had cost Eer the love of his life, but now, after twenty-five turns, Kat has returned…with a son, and Eer's feelings resurface as if it had been only yesterday since they'd first kissed. But any hope Eer has of rekindling their love seems doomed to fail when a murderer's taste for revenge forces Kat to choose between endangering their family or running… and leaving Eer behind, again. ___________________________ wordcount: 31,600 words TALES OF THE FOREST is an ongoing series of standalone stories linked by a forest world. Content warnings are available in the book's front matter and on the author's website.
Twenty-Five Turns