Word Count:

125650
Summary: My sister deserved her death, but I didn't kill her. The infamous Sisterhood couldn't care less - it's the perfect excuse to make their move. My name is Sirana. I am a young Noble trapped in a most wretched spot: accused of assassinating my sister, the Matron's heir. If I take the blame, I am next on the sacrificial altar. Dark Elves live for intrigue in our underground matriarchy. We bend the rules for the cunning and the bold. To survive, I must play the game. Court intrigue, demonic rituals, and mind-rending trials against deadly foes surround me, pervasive webs spun by our sadistic priesthood and the Queen's brutal enforcers. Through it all, the Red Sisters delight in watching me. I must prove myself beneath their ravenous gazes, or I will become the next meal for our dark goddess. A.S. Etaski spins the first threads of an intense and epic tale with No Demons But Us, in which the trials of a young Davrin Elf test her resolve to rise from the depths of fear and hatred tearing her down. Sister Seekers is mature, dark epic fantasy with an ever-broadening scope. Found Family is a core theme throughout the saga, and fans of Dungeons & Dragons will discover homebrew grounds. Perfect for fans of entwined plots, challenging themes, elements of erotic horror, and immersive worldbuilding. Sexuality and inner conflict play into the character growth with nuance, intrigue, action, and fantastical magic. The series begins underground with an isolated race of Dark Elves whose intricate webs first ensnare then catapult us to places a Red Sister can only imagine in her dreams.
No Demons But Us: Sister Seekers 1
Word Count:

411000
Summary: Aegaan is a vast and righteous kingdom, yet darkness gathers in the distant corners of the realm. Elven raids on small towns have inflamed racial tensions with humans, pushing distrust to hatred and the brink of war. Anrael wanders the woods alone until a chance meeting tempts him to set aside his contempt for those who scorn his half-elven blood. When Kylie, a naive elf terrified of humans, is thrust among them against her will, she begins to question her mother's tales of dread. Having lost everything dear to him, the bandit king Jhelan lives only to seek challenge in battle… until he finds himself willing to die protecting that which he hates the most. The diabolical mystique of the dark elves cloaks L'an Thal'Sara in protection, but the cruelest lie she tells is to herself. Thaelwyn, a virtuous knight, sets out to discover the source of the Elves' aggression, but faces a much greater test within his mind. Beneath the chaos, minions of the Destroyer search for their promised leader, a child possessing power beyond their years. If the innocent falls to darkness, a kingdom rife with hatred will surely crumble.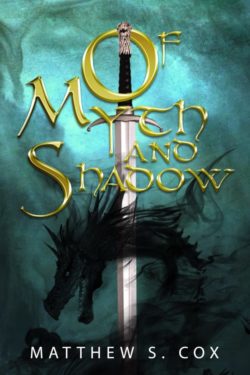 Of Myth and Shadow
Word Count:

115000
Summary: From Cornish pit mines to Jorvik back alleys, from the Mercian Court to beyond the North Sea, the Agneson clan continues their adventures across Midgard and the 9 realms: Scheming aldermen, duplicitous monks, slave drivers, dark elves, trolls, ghosts, shapeshifting witches, the legendary Norse Wild Hunt, and… a dragon! With the fall of the Danish army at the battle of Ethandun, historical events scatter the Agneson family: Cub is enslaved in the Devonshire tin mines while Sorven stalks retribution in Jorvik; Kara is unwillingly propelled toward a convenient Saxon marriage while Karl and his crew are castaway on a mythic floating island. Separated and marooned, each is forced to tackle their challenges alone while the forerunner Thorfinn faces supernatural revenge, a battle to lift a Jarl's curse and the release of his Jotunhiem wyrm in Midgard! Can Cub escape his overseers in the tin pits of Devon? Can Kara evade her Saxon uncle's plans for her marriage? Will Sorven succeed in his bloody revenge? Can Finn save a Jarl's daughter and break a mysterious curse? Can the forerunner find and help his scattered family overcome their trials? And what can Finn do with… a pet dragon?!? Based on actual historical events and authentic legends, this epic fantasy follows the paths of the sons and daughters of Agne, Son of Ironfist in the Viking Era circa the year 880. Don't miss this grand panoramic tale!
On Viking Seas
Word Count:

61770
Summary: Morgorth is considered a villain by his own people and known as Dark Mage of the North. But now all he feels is light and love as he pursues a budding relationship with Aishe, a dialen of the Ravena tribe. Morgorth hardly believes his good fortune. He has allowed Aishe into his home, into his bed, into his heart. He laughs more, smiles more, and feels happier than he ever has before. He should have known such bliss never lasts. The Council of Mages, the ruling body over all mages on Karshian, knows he has Rambujek, a major stone of power—a stone won from an evil sorcerer. They also know his destiny—to become the Destroyer. Fearful, they send two emissaries to take the stone from Morgorth, using whatever means necessary. This includes tricks, threats to those under his protection, and the threat of war. A war Morgorth knows he would never survive. Conflict soon arises between him and Aishe. Their tenuous relationship is put into jeopardy, their very beliefs about themselves and their love is put into question. Morgorth doubts if he should keep Aishe in his life. He doesn't know if he can protect Aishe from his enemies. Or from the monster he might become.
Peridot: War and Peace
Word Count:

92000
Summary: He wants to rule the world. She was born to stop him. Fale secretly began having visions of things before they happen when she turned 18. But when she uses the vision of a deadly encounter to save the life of her hot, biomechanical crush in a fight, she sets into motion the race of their lives. Henchmen emerge from the shadows, and Fale and Keron battle to stay alive. When Fale's only remaining family disappears, leaving a kidnapper's note, they go into hiding. There, they discover a hidden romance that steams up their hideaway. Fale searches for clues to discover why she is being hunted, and how to get her family back. When the answers come, no one could have expected the role Fale is called to be, or the impossible task she must fulfill. Fale's powers awaken as she learns who her true enemy is and why they want the antique key her father gave her as he lay dying, saying it was her destiny. The human citizens of Alloy City have believed the lies they were fed, and magic has been forgotten, though the war between wizards and mages has been brewing for centuries. If Fale can accept the identity she's been given and the power that runs in her veins, a greater fate awaits her, but the war has awakened with her in the center. Rebellion is in her blood, but can she admit that she has the strength to be a warrior princess? Can she defeat the greatest evil her world has ever known? Can she love a man who is part machine? ♥ For fans of Sarah J Maas's Throne of Glass and Suzanne Collins's The Hunger Games. Are you ready for the adventure?
Princess of the Blood Mages
Word Count:

92000
Summary: WELCOME TO THE ROOTS OF LOVE! Thirteen authors, fourteen stories, and lots of HEA/HFN - what more could you ask for? We went out and found the best romantic origin stories on the market today and collected them in one volume. Whether you want fantasy, urban, paranormal, contemporary, classical, or sci-fi, it's here. Straight, sapphic, gay, polyamory, we have the flavors to satisfy. Want to know more? A sci-fi short from noted sapphic author Lila Gwynn that begins at the end of the world C.R. Clark brings you a curse that might turn into a blessing AC Adams tells the tale of a djinn who is looking for the wish that will free her from bondage Award-winning author David Green takes you on a quest for love and revenge Can romance bloom in spin class? Nat Paga's going to show you how Gods and goddesses and humans, oh my! Courtesy of Lou Grimes It might be the future, but Adam Gaffen's characters still grapple with the forbidden attraction between a student and their professor A workplace romance heats up when the boss gets involved in Madilynn Dale's contribution There's love to be found in Dani Hermit & Curtis Star's Omegaverse, if you know where to look AC is back with a story in her award-winning Kalili's Temptation universe A modern retelling on the Romeo and Juliet origin story gets the full, lyrical Rose Sinclair treatment Jump into the hopepunk future of O.E. Tearmann and see what true friends do for each other Valkyries and shifters are mortal enemies, but do they have to be? Find out in Poppy Minnix's tale What could possibly happen when a fae starts reading tea leaves for humans? Sienna Swift has your answer So sit back, relax, and enjoy this journey into all the ways love can begin in the most unlikely circumstances!
Roots of Love
Word Count:

72014
Summary: Lord Morgorth is a dark mage on the planet Karishian. He's considered a villain by his peers and relishes the title, having embraced the role early in his life. However, not all of his actions are necessarily villainous. Despite owning several of the Stones of Power—gemstones infused with powerful magick—he doesn't use them, preferring to keep them hidden away and out of destructive, power-hungry hands. He hates them more than anything. So when a sorcerer gets a hold of a major stone, Morgorth has no choice but to go after him. But, to his irritation, he is not alone. Aishe is a dialen whose tribe was massacred by the sorcerer, and is now on a mission of vengeance. The attraction is instant between them, but Morgorth keeps his distance. Because of a traumatic childhood and a deadly destiny, he has no desire for emotional complications. But Aishe's very presence challenges Morgorth's resolve. Not only does Morgorth admire Aishe's strength and intelligence, but he begins to see Aishe as a friend. As their hunt continues and their time together lengthens, their bond deepens, as does Morgorth's fear. If he becomes the monster that destiny claims he will be, will he hurt Aishe? Will he harm the one person who sees right through him? Who accepts him wholeheartedly? Determined to not let that happen, Morgorth keeps Aishe at a distance. But when Aishe is kidnapped by the sorcerer, what will Morgorth do to get him back?
Ruby: Lost and Found
Word Count:

64,390
Summary: The time has come. The Dark Mage, Lord Morgorth, and Aishe of the Ravena Tribe, are to become bondmates. Morgorth is equal parts nervous and excited. He wants to unite with Aishe in the sacred dialen ceremony, to proclaim their devotion to the world, to show everyone that Aishe is his equal and deserving of respect. After all they've survived together, why shouldn't they make the cosmic promise before friends and family? But duty must often come before pleasure. When Morgorth's estranged mentor, Master Ulezander, comes to him with a time-sensitive mission involving a major stone of power, Morgorth has little choice but to acquiesce. Aishe knows his mate struggles with the revelation of his true destiny, after a lifetime of defining himself as the future Destroyer of Karishian. All he can do is reassure Morgorth that being the Savior is a far better fate for both of them. But as Morgorth and Aishe leap through worlds and dimensions in pursuit of a stone of power, more pieces to the puzzle of Morgorth's destiny are revealed. And they form an image of sacrifice and tragedy. The dark cloud of an ancient enemy looms ever closer, and the path to becoming the Savior might prove more monstrous than that of the Destroyer.
Sapphire: Home and Abroad
Word Count:

386,840
Summary: When sisterhood by blood is pure misery, can sisterhood by trial be any different? My sister deserved to die, but I didn't kill her. If I take the blame, I'm next on the sacrificial altar. The Red Sisters know this. Now they're watching me. I'm about to find out why. ~~~ In their underground city, only the cunning and the bold thrive. Sirana Thalluensareci refuses to be cowed. Banished from everything she knew after surviving an assassination attempt, the abused dark elf finds delight in the sensual thrills of the court's explicit intimacies. But she's taken off-guard when one of the realm's most powerful organizations steps out of the shadows to abduct her to their lair. Relying on her wits and nerve to thread her way through a controlling sisterhood, Sirana navigates passionate encounters, sharp-edged battles, and a series of initiation rituals where failure means a painful death. Even as the independent warrior-in-training discovers a taste for hidden pleasures, old scars threaten her ability to survive on the danger-strewn path when the Red Sisters' competitors, the Daughters of Braqth, turn their eyes toward her. As everyone around her pushes her to the edge, can she keep her balance and avoid falling into the spider's trap? If you crave found family, nuanced characters, bold and steamy scenes with touches of survival horror, then you'll love A.S. Etaski's Machiavellian matriarchy. Begin the intense first trilogy of the Sister Seekers series today!
Sister Seekers Bundle Vol. 1
Word Count:

135000
Summary: Lynx is a mercenary with a sense of honour; a dying breed in the Riven Kingdom. Failed by the nation he served and weary of the skirmishes that plague the continent's principalities, he walks the land in search of purpose. He wants for little so bodyguard work keeps his belly full and his mage-gun loaded. It might never bring a man fame or wealth, but he's not forced to rely on others or kill without cause. Little could compel Lynx to join a mercenary company, but he won't turn his back on a kidnapped girl. At least the job seems simple enough; the mercenaries less stupid and vicious than most he's met over the years. So long as there are no surprises or hidden agendas along the way, it should work out fine.
Stranger of Tempest
Word Count:

125350
Summary: I emerge from the Deepearth for the first time, blinded by searing light. Vast lands beyond my comprehension await me. I will face them pregnant and alone. My Sisters and I have been compelled to take missions in this uncharted wilderness. By order of our Queen and the abyssal power which backs Her, we cannot refuse. For the slimmest chance of success, we must move beyond each other's reach with little knowledge to aid us. The Valsharess predicted we would never see each other again. When a sisterhood has no demons but each other, what are we to this new land once we've been split apart? Etaski's fantasy world breaks wide open in Surfacing, as the Sister Seekers epic rises to the next level. Beneath the unforgiving sun, webs dissolve into dreams, and scattered shards of dark history wait to be picked up and pieced together. Sister Seekers is dark epic fantasy for adults with an ever-broadening scope. The saga genre-hops a bit so things never get stale. Found Family is a core theme throughout. Perfect for fans of entwined plots, challenging themes, immersive worldbuilding, and elements of erotic horror. Sexuality and inner conflict play into character growth with nuanced intrigue, intense action, and fantastical magic.
Surfacing: Sister Seekers 4
Word Count:

138400
Summary: The Conceiver wants to ruin me for the Sisterhood. I can't let this happen. I stumbled into a place I wasn't supposed to be. Priestess Wilsira isn't angry. She merely demands penance at her side, only too delighted to wreck my Elder's plans for me. Serving her and her demon-blooded son, I'm caught in a cascade of revelations. I begin to understand the real powers which govern out city, consuming most of us eventually. Will I fall prey to city's worst monstrosities like so many fighters before me? Or can my private battle gain an edge for the Sisterhood when the sweeping chain of events finally reaches its end? In The Daedal Pit, intrigue and horror, action and drama weave Etaski's third act of the Spider Queen's web into a consummation of promise. Fulfilling that promise catapults one determined survivor to a place she once could see only in her dreams. Sister Seekers is dark epic fantasy for adults with an ever-broadening scope. Found Family is a core theme throughout the saga. Perfect for fans of entwined plots, challenging themes, elements of erotic horror, and immersive worldbuilding. Sexuality and inner conflict play into the character growth with nuance, intrigue, action, and fantastical magic. The series begins underground with an isolated race of Dark Elves whose intricate webs first ensnare then catapult us to places a Red Sister can only imagine in her dreams.
The Daedal Pit: Sister Seekers 3
Word Count:

78740
Summary: Dare to explore the darkest tales where sunlight never touches. Etaski's dark fantasy epic, Sister Seekers, begins underground with its denizens living and dying in eternal night. A novice Red Sister leads us through much of the series, but her Elven ancestors have their own stories to share. Tales of Miurag: The Deepearth is a same-world anthology exploring critical moments in the history for the Dark Elves of Sivaraus. This collection contains explicit and sometimes grim content, though we are never lacking all hope. Stories included in this collection: House Aurenthin - a novella on the dramatic origins of the lowest-ranking noble house in Sivaraus. Auranka the Keeper - a chilling horror tale on the monstrous Mistress of the Driders. Rohenvi - the tragic romance in the early reign of the Matron of the Twelfth House. Gaelan - a "dark slice of life," how future Red Sisters sometimes make connections long before their trials Sister Seekers is dark epic fantasy for adults with an ever-broadening scope. The saga genre-hops a bit so things never get stale. Found Family is a core theme throughout. Perfect for fans of entwined plots, challenging themes, immersive worldbuilding, and elements of erotic horror. Sexuality and inner conflict play into character growth with nuanced intrigue, intense action, and fantastical magic.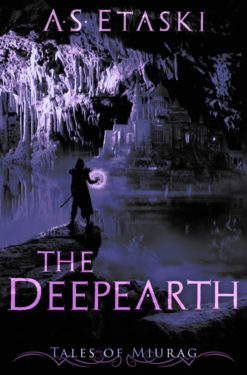 The Deepearth: Tales of Miurag 1
Word Count:

111,172
Summary: Two sisters born in the Red Desert, young Daughters of an ancient Queen. One seizes the delights of the present. The other sees and despairs for their future. Innathi and Ishuna, the heirs of the Dark Elf Queen of V'Gedra, travel the sand dunes with their entourage. In need of water, the sisters enter the sacred canyons of Koorul, where they interrupt a mystic rite of passage for the Human son of a Sorcerer-King. Negotiations fare well between the two desert peoples until powerful magic blends with the discoveries of youth which get quickly out of control. Incomprehensible joy crashes into a dark dread which cannot be named, and a schism begins between the sisters. Diplomacy is critical to avoid unnecessary conflict, yet the Queen's daughters do not agree on the goal. Each has her version of the events at Koorul, and each is certain of the outcome should Innathi pursue the wild magic of the Zauyrian son. A close alliance with a Sorcerer-King could bring pleasure, prosperity, and new life thriving in the Desert, or it might corrupt a delicate balance to bring down the realms and all they had ever known. This second volume of Tales of Miurag is a standalone novel which can be read on its own. Dramatic events and mature themes weave into broad history and lore headed toward a cataclysm which will change the entire world. The Desert is also Etaski's ultimate villains' origin, featuring several antagonists introduced in the Sister Seekers series. This story takes place approximately 3500 years before No Demons But Us, where hints of these events past echo forward and impact future generations.
The Desert: Tales of Miurag 2
Word Count:

146000
Summary: Princess Oona Talomir enjoys the little things that come with her station: a handmaiden, her lavish bedchamber, and scores of fancy dresses―the duty to win a decades' long war, not so much. Oh, did I mention assassins? Seers foretold the conflict would end by her hand. From the moment she drew her first breath, the neighboring kingdom has been trying to kill her so she could not grow powerful enough to destroy them. Fearing for his daughter's life, the king has kept her confined to the castle grounds for most of her sixteen years. With the tide of war turning against them, the burden of her crown becomes too much to bear, yet one thing lifts her spirits amid the gloom. Her servant girl, Kitlyn. Alas, in a kingdom obsessed with the god of purity, she is terrified to confess her forbidden love. When her father makes a demand she cannot abide―marry a prince to forge a military alliance―Oona panics. He is handsome and honorable, but he's not Kitlyn. Unable to admit why she cannot obey, Oona does the only thing she can think of, and runs away. Alone and unprepared in the wilderness, she prays the gods will let Kitlyn find her—before the assassins do.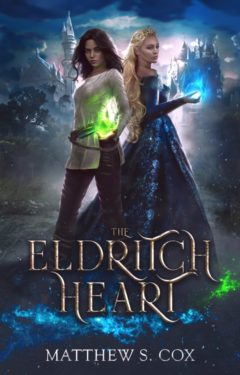 The Eldritch Heart
Word Count:

137000
Summary: As soon as she saw the knife coming… …she knew her life was over. Even if she lived, she could tell nothing would ever be the same. Young, intelligent, and fiercely independent, Rachael was not nearly as worldly as she believed. Hunted by a mysterious cult, she finds herself thrust into the world of power and magic; her way of life is shattered as she struggles to keep herself alive. Guided by the mysterious Warrior, Ghost, Rachael must embrace her new reality. But she never imagined that her life would depend upon an enigmatic figure from her past… …a knight whose soul is slowly falling into darkness. Only a journey through their shared past will help them see that there is no threat as dangerous as The Enemy Within. The perfect mix of adventure and romance in this Urban Fantasy will keep you on the edge of your seat. Visit us at www.SjyMusePub.com
The Enemy Within: A Way of the Warrior Novel
Word Count: Information not available
Summary: "It is so packed with action that there was no place where I could say, 'Ok time for bed now. I'll finish it tomorrow.' A must read." ~Amazon Reviewer Fale doesn't know why she has visions of the queen's past life. All she knows is that her magic becomes dangerously faulty every time she sees into the past. Through the visions, the mystery of Effailya's banishment and life of slavery is solved; the reasons of her heated parting with Gryndoll are revealed, as well as who was the queen's secret lover. And how that could possibly relate the Source Wizard to the Queen of Mages, herself. The Source Wizard Gasten sends out his best efforts, but the new queen stays one step ahead of him. He may have found a way to send his spell to her. And if not, he's found the old wizard's journals, which are sure to give her weaknesses. The Final Rescue is a face-paced adventure as the wizards and mages race toward their mutual destruction. A strong female lead not only survives her dystopian society… she solves the mystery of a hidden war, only to cause a new one, then battles both sides to rule it herself. It's a conclusion for fans who fell in love with The Hunger Games, Divergent, and The Reader series. If you're hooked on genre-blending, suspenseful, fantasy romance novels, with adventure, you'll love The Final Rescue!
The Final Rescue
Word Count:

148000
Summary: I've confronted the half-blood mercenary who has what I need to find Jael, wherever she may be. Neither of us will leave until we reach a bargain which yields what we most desire. The Dragonchild has brought me into a city he knows to its foundations, where I am at a disadvantage. My devout Deathwalker may be content to wait for the coming war between Manalar and the Ma'ab, secure in his value to a newly revealed influence in the conflict, but my position seems neither secure nor desirable to anyone but me. I must dig deeper into the motives of all involved, including my own, to convince the Guild's leaders to lend me their vast knowledge and far reach within strangely familiar plots. I have to succeed for Jael's sake, for she is my only sister left. In The Guild's Design, outcasts from the Deepearth dare to reveal resolute hopes waiting within quiet hearts. This time and opportunity must not pass them by, lest the promise of war rend their chances for a future beyond the next conflict. Sister Seekers is dark epic fantasy for adults with an ever-broadening scope. The saga genre-hops a bit so things never get stale. Found Family is a core theme throughout. Perfect for fans of entwined plots, challenging themes, immersive worldbuilding, and elements of erotic horror. Sexuality and inner conflict play into character growth with nuanced intrigue, intense action, and fantastical magic.
The Guild's Design: Sister Seekers 7
Word Count:

128600
Summary: I escape into a twisted wilderness with a stolen relic protecting me from madness. Behind me is the mysterious stalker from across the plains. He's caught up to us. My sisters are out there somewhere out, and my unborn is here with me. Struggling to tell guardians from beguilers on a warped battlefield, I worry for all our fates. Somehow, I must bear the terrifying risk of bargaining with Surfacers in ways which ensure enslavement back home. No Red Sister can give up her mission when compelled by her Queen to see it through. Surrounded by allies and enemies alike seeking to influence the only free Davrin Elf on the Surface, I must relearn my limits when confronted by those who have none. The true scope of Etaski's saga arises in The Mark of Gold. Tangible peril meets cryptic visions, forcing a driven few to redefine what it takes to break the shackles of compulsion and forge them as bonds of loyalty. Sister Seekers is dark epic fantasy for adults with an ever-broadening scope. The saga genre-hops a bit so things never get stale. Found Family is a core theme throughout. Perfect for fans of entwined plots, challenging themes, immersive worldbuilding, and elements of erotic horror. Sexuality and inner conflict play into character growth with nuanced intrigue, intense action, and fantastical magic.
The Mark of Gold: Sister Seekers 6
Word Count: Information not available
Summary: The race is on. Beware the henchmen. Fale and her friends are on an epic journey to find the magic machine that will open dimensions, allowing her to rescue the mage slaves—her people—from the hands of an evil Source Wizard. Still accepting her role as queen, she welcomes her new powers. But the group is not alone. Henchmen wait for them when they least expect it. Tensions are already high, but when Izzy—Alloy City's socialite—decides to wage war on Fale, the situation becomes toxic. Fale is devastated. She's lost her way of life, her identity, her guardian, and now her best friend. Worse, she pushed Keron—her hot boxer crush—away so he could focus on his job, but sharing a tent with him is excruciating when passions boil over. She'd give it all up if it weren't for her trusty sidekick, Lisle—the wizard—who loves her, but wants to see her succeed and to find his own purpose. They sail to an island in her visions that no one believes is there. Fale is relieved to be on her way, but fear of what awaits her, plus the constant state of tension in her group, immobilizes her. She's miserable, just trying to make every choice a good one. Things will never be the same as they were back home, she will never be the same. Fale doesn't know what they will find once they reach the island. She doesn't know why she's having memories of Queen Effailya's life, making her magic misfire at inopportune times. She has no clue how they'll manage to get a huge machine onto the boat and back to the mountain mages' estate. Impatient for answers, she seeks clues to the mystery. She may find everything she's looking for—she might not—but the price for winning will be higher than she ever imagined. ★If you like epic quests, sword and sorcery, mages, wizards, love triangles and plot twists, you'll love this complicated emotional must-read. You won't want to put it down. Fans of the first book, The Key of F, The Hunger Games, Eve, and The Rise of Isaac will enjoy this character-driven story.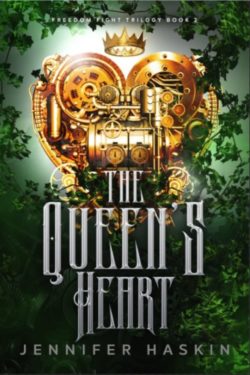 The Queen's Heart