Word Count:

125,000
Summary: For the past few years Yarroway L'Estrella has lived in exile, gathering arcane power.  But that power came at a price, and he carries the scars to prove it. Now he must do his duty: his uncle, the king, needs him to escort Prince Garith to his wedding, a union that will create an alliance between the two strongest countries in the known world. But Yarrow isn't the prince's only guard. A whole company of knights is assigned to the mission, and Yarrow's not sure he trusts their leader. Knight Duncan Purefroy isn't sure he trusts Yarrow either, but after a bizarre occurrence during their travels, they have no choice but to work together—especially since the incident also reveals a disturbing secret, one that might threaten the entire kingdom. The precarious alliance is strained further when a third member joins the cause for reasons of his own—reasons that may not be in the best interests of the prince or the kingdom. With enemies at every turn, no one left to trust, and the dark power within Yarrow pulling dangerously away from his control, the fragile bond the three of them have built may be all that stands between them and destruction.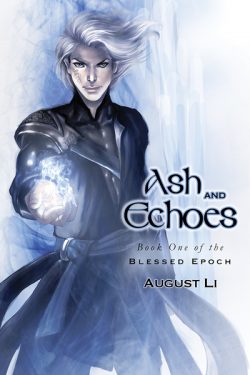 Ash and Echoes
Word Count: Information not available
Summary: Morgan Patterson came to Northern Ireland for her senior college year abroad to focus on her studies far away from family drama. But she's quickly distracted by a police sergeant named Tiernan Doherty. Though he's old enough to be her da, as her new friends are quick to point out, she fancies him. And he certainly seems to be obsessed with her. Eagerly going against all good advice, Morgan becomes more and more bound to Tiernan—by ties of lust and love and protection, and maybe even duty. But there is more to their attraction than Morgan can explain with her science textbooks, and more is going on in the sleepy village where they live than she could ever have imagined. She was once so sure that fairytales were fiction. But there's no denying the strange visions and dreams she's been experiencing since coming to this place. So many of the people she's met—both those looking out for her welfare and those seeking to destroy her—seem to feel she is a special one, with powers that are only now coming fully into her possession. Will she finally begin to understand that herself before it's too late?
At the End of the Rainbow
Word Count: Information not available
Summary: Maze running executioners, menopausal super heroes, psychic scientists, precog nuns, sentient crows . . . These are just a sampling of the diverse ladies that will enthrall, excite, and entertain you in this anthology of science fiction and fantasy stories written by women. With an introduction by Erin Gray.
Athena's Daughters Vol 2
Word Count:

19696
Summary: What happens when porn star "Big Johnson" Galt decides to stop the engine of the world? Can a mystery novelist/magician find true love while solving The Wodehouse Murder Case? Will a plucky small-town Satanist be able to make it in the cutthroat world of Satanic lifestyle publishing? Can a savage Cimmerian barbarian win a proper 1800s English woman or will The Sword of Darcy fail them both? Atlas Shagged is a collection of humorous fantasy stories that I've published in various magazines, plus the all-new title story. The hard copy edition has several added stories.
Atlas Shagged
Word Count: Information not available
Summary: A quest for vengeance. A battle for dominance. Anything is for sale at the Auction of Souls. Max and his party start down a dark path with only an echo to remind them why they're fighting. Finding their target in the game isn't enough, they need to find them in real life. Perhaps for this very reason, they're no longer harmless misfits: they're the most infamous players in the game. They get invited to an auction that offers contract items to the highest bidder, a golden opportunity to prepare for the battles that loom in their future. Weapons aren't the only thing they need. Down a party member, they need a new ally to fill the void in the team. House Lockheart wasn't the only group invited: the top players in Noctum gather like moths to a flame. With this many lords, villains, thieves, and assassins in one place, finding an ally is easy; trusting them is far harder. The auction is open, and the price could be everything.
Auction of Souls
Word Count:

121000
Summary: A child's memory. A journey's end. Lance doesn't remember the time before Ulfr found him. It's a dark pit in his mind that he avoids at all costs. And yet, despite his best efforts, pieces start to fall, and echoes from the past begin to ring. However, he has little time to comprehend their meaning, since the Captain of the Imperial Army herself has come to collect him and bring him to the capital city of the Nifdem Empire. Whisked away to the gilded streets and glittering court of the Hill of Tarran, and then to the snowy reaches of Swenen, Lance and Gust will learn the answers to questions they've had from the start. And be forced to acknowledge their roles in the survival of the empire and the ripple effects of their actions. But such knowledge can come at a steep price. As allies and enemies begin to step from the shadows, Lance will learn the truth of his past and the price of his redemption, and all the pain that comes with them. While Gust will have to decide what he's willing to sacrifice to safeguard the one he loves.
Avenging Lance
Word Count: Information not available
Summary: How does a world armed with bows, arrows and catapults, where steam power is just beginning to replace horses and sailing ships, avert a conquest from beyond the stars? Prince Regilius has been engineered to combat the Dalthin, a predatory alien species that enslaves worlds telepathically, and to do so he must unite his people. But when his mother murders his father, the land descends into chaos and his task may prove impossible. Faced with slaying the one who gave him life in order to protect his world, he seeks a better way. Set in a vast and varied land where telepaths and those with unusual mental abilities tip the course of events, Awakening goes to the heart of family, friendship and betrayal. "In AWAKENING Raymond Bolton presents us with an intricate and interesting problem, characters you care for, aliens who -are- alien, and a carefully-thought-out future."—Mike Resnick "Raymond Bolton's genre shattering Awakening is a skillfully woven hybrid of science fiction and fantasy that brings cultural conflict to a whole new, thoroughly believable level that goes straight to the heart of what really matters."—Matthew J. Pallamary – author of Land Without Evil and Spirit Matters. "Bolton navigates through the plot lines and the mixed genres (Science Fiction but not exactly, Fantasy but not entirely, Paranormal but not completely) with the clear gesture of the conductor of a large orchestra. A new voice and author who is bound to grow a faithful readership."—Massimo Marino, international award-winning author of The Daimones Trilogy "it's a grand debut. An ambitious and well considered SF crossover [that] breathes originality into the genre"—BookViral
Awakening
Word Count: Information not available
Summary: Twenty four short stories, written by E.D.E. Bell between 2014 and 2020. Primarily a fantasy collection – sprinkled with humor, romance, and hope. Stories of wizards, Beatles, and a great many frustrated women.
Awkward Tomatoes
Word Count:

21,400
Summary: When do dreams become reality? Orin sells dandelion latex at a no-name market, barely scraping by. Mette is a princess. Maybe. What Orin does know is that for thirty seconds every night, Mette visits Orin in xir dreams. Orin has long since written the fancy ghost woman off as a recurring nightmare, but when Mette insists upon meeting in real life, Orin's inner world turns out to be more substantive than imaginary. Along with best friend Blathnaid, Orin embarks on a journey to discover the truth behind xir otherworldly connection--determined to free xir mind and finally get a good night's sleep. But it's an ancient, planetary magic that binds Orin to Mette, and Orin's dandelions may be their only chance to survive the separation. If you want a fun, queer romp through a sci-fi planet with magic and dragons (of a sort), download Awry with Dandelions today! Note: this book uses xie/xir pronouns for Orin. Genres: Space Opera / Science Fiction / Romance / LGBT Lesbian Non Binary Market: Adult and New Adult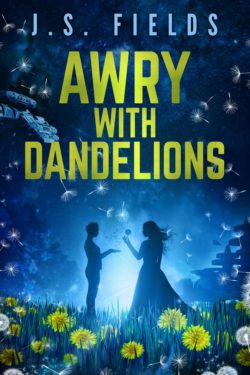 Awry With Dandelions
Word Count: Information not available
Summary: Come, Best Beloved, and sit you by my feet. I shall tell you a tale such as sister Scheherazade could have scarce imagined... In the Nejd there is nothing at all...except secrets. A band of thieves wishes such secrets to remain hidden. In England, far from his desert home, Ali bin-Massoud serves as apprentice to the famed Charles Babbage. One night a mysterious box is delivered by a clockwork falcon and Ali's world is never the same again. Heartache, danger, and thieves mark his journey as Ali is summoned home at the death of his father. It will take faith, knowledge, and yes, love to realize his destiny, and more than a little skill with steam-driven technology. Can he unravel the mystery of the puzzle box and the clockwork djinn before it is too late? An ancient legacy and Ali's very life depend on his success. Hear you the tale of Baba Ali and the Clockwork Djinn.
Baba Ali and the Clockwork Djinn
Word Count:

78000
Summary: In the final installment in the SoulShares series, author Rory Ni Coileain weaves together the myriad threads of this compelling paranormal romance in a climax that crosses time and space. Sometimes Fae love stories aren't what you expect. The Marfach—devourer of magick, long-imprisoned mortal enemy of the Fae race—is free of its Antarctic prison. The Demesne of Purgatory—Fae, humans, a Fade-hound puppy, a Gille Dubh, and a darag—is all that stands between the monster and the power it needs to destroy both the Fae Realm and the human world. The only clue they have as to how to kill the unkillable is a cryptic note from the Loremasters: "Osclór, Nartú; Tobar, Soladán; Nidantór, Breathea; Glanadorh, Coromór, Farthor; Scian-omprór, Nachangalte; Crangaol, Síofra; Gastiór, Laoc, Caomhnór; Fánadh, Ngarradh." Opener, Strength; Wellspring, Channel; Unmaker, Judge; Cleanser, Equalizer, Sentry; Blade-bearer, Unbound; Tree-kin, Changeling; Binder, Warrior, Guardian; Wanderer, Sundered. As they rebuild Purgatory from the rubble the Marfach left behind, they have to stand together, using everything they know—everything they are to their partners, lovers, husbands. Everything SoulSharing has made them. And not everyone who enters the final battle will leave it.
Back Door Into Purgatory
Word Count:

70000
Summary: As far as rock star Gareth Kendrick, the last true bard in Faerie, is concerned, the only good Unseelie is . . . well . . . there's no such thing. Two centuries ago, an Unseelie lord abducted Gareth's human lover, Niall, and Gareth has neither forgotten nor forgiven. Niall O'Tierney, half-human son of the Unseelie King, had never lost a wager until the day he swore to rid the Seelie court of its bard. That bet cost him everything: his freedom, his family—and his heart. When he's suddenly face-to-face with Gareth at the ceremony to join the Seelie and Unseelie realms, Niall does the only thing inhumanly possible: he fakes amnesia. Not his finest hour, perhaps, but he never revealed his Unseelie heritage, and to tell the truth now would be to risk Gareth's revulsion—far harder to bear than two hundred years of imprisonment. Then a new threat to Gareth's life arises, and he and Niall stage a mad escape into the Outer World, only to discover the fate of all fae resting on their shoulders. But before they can save the realm, they have to tackle something really tough: mending their own broken relationship.
Bad Boy's Bard
Word Count:

95877
Summary: A bargain must be struck before the Age of Mortals can be truly realized. For Elise, Ermolt, and Athala, the price is high. Not only do they have to find the dragons that have been hidden for centuries, but they have to kill them. ​ Their first stop is Jalova, home of Teis, God of the Sky, and their enemies the overseers, a group of thieves led by Merylle Callac, former High Priest of Teis. ​ Merylle wants help them, and her terms are simple - she wants revenge of her former God. Elise and her companions are more than willing to comply. ​Will Elise, Athala, and Ermolt be able to slay Sirur with Merylle's help, or will they face the wrath of Meodryt for their failure?
Bargain
Word Count:

174300
Summary: My sister is in grave danger, captive in the city of Witch Hunters. As Manalar prepares for war, her only chance lies with infiltrators from Augran. I shall join them. The prosperous port of Augran thrives in diverse trade with the Dwarven Clans. The Bishops of Manalar have withdrawn defiantly into the Temple of the Sun, scorning their past allies. The Ma'ab Empire has sent their dark army out of the Far North, seeking not riches but a small, well-protected spring high upon a mountain. The sacred pool of Manalar is said to bless all mages who control it. On the fringe, there's Gavin and me. Each dedicated to our purpose, we garner allies from Augran and the Clans of Taiding willing to see them through. My Dragonblood bodyguard, Mourn, reinforces our strengths as we expect others like us to jump out of hiding and into the fray. I failed one sister. I will not fail another. Sirana's desperate search upon the Surface reaches its culmination in Battle for Manalar, where foes and allies unite and clash in this transformative event driven by opportunity, righteousness, and reprisal. Sister Seekers is dark epic fantasy for adults with an ever-broadening scope. The saga genre-hops a bit so things never get stale. Found Family is a core theme throughout. Perfect for fans of entwined plots, challenging themes, immersive worldbuilding, and elements of erotic horror. Sexuality and inner conflict play into character growth with nuanced intrigue, intense action, and fantastical magic.
Battle for Manalar: Sister Seekers 8
Word Count: Information not available
Summary: Once upon a time in a world where magic and technology collide with unexpected consequences… Bellarosa sleeps, her previous life forgotten. As she dreams, she can but observe the world she sees in her mind and wonders if it is real. But one day, Tolliver stumbles into a tunnel leading to her resting place, and he can hear her. As she becomes part of his life, her dreams fill with budding love. But is Tolliver a figment of her imagination or a real human being? Can Bellarosa find her memories and learn the truth about her long sleep before she loses Tolliver and her own life? What if the Brothers Grimm had taken the dreams of "Sleeping Beauty" into account? The book includes a bonus story and the original fairy tale.
Bellarosa
Word Count: Information not available
Summary: [embed]https://www.youtube.com/watch?v=rB1UJbIzkZQ[/embed]
Ben the Dragonborn
Word Count:

11500
Summary: A dark fairy tale in a modern Greek setting. Hiding in the mountains, a harpy and her adopted daughter struggle to survive. Iphis has always known that survival comes hand in hand with loneliness, but when she catches feelings for a girl in the nearby town, her heart yearns for a different kind of future. When she's suddenly attacked by a group of enraged harpies, things only become more complicated... and dangerous.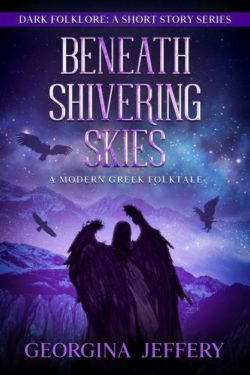 Beneath Shivering Skies
Word Count:

68000
Summary: They'll take a leap into the unknown to protect the world. There's something seriously wrong with Earth's magic. A demon has appeared unsummoned out of thin air, familiars can't return Home, and as Grim points out, rats smell like summer in the middle of winter. Grim and Pip can deal with rats; Silas can banish one wayward demon. But soon there are other demons, more each day, and Silas's old mansion is full of mysteries. He and Darien will need their familiars, their friends, plus a whole lot of luck, as they search beyond Earth for the forces that have changed their world. And to have any chance of getting safely home, Silas will have to confront a past he's avoided for ten long years.
Beset by Demons
Word Count:

36000
Summary: Being invisible makes it really hard to get laid. When half-human Kai Schiffer steps into the Interstices—the post-creation gaps between realms—his supernatural half kicks in and he literally disappears unless…well, don't ask. But in a stroke (heh) of good fortune, Kai finally has a chance to show his face (and other parts, stars willing) to his long-time crush Jovan Kos—Interstitial Law Enforcement agent, wolf warrior, occasional berserker, and best man at their mutual best friends' Imbolc wedding. Jovan, who's half in love with Kai already, is grateful his best man duties are light enough that he can focus all his attention on Kai. After all, with Enchanted Occasions Event Planning handling the Olesson-Pakulski wedding, what could possibly go wrong?
Best Beast
Word Count:

19000
Summary: What if you could hear the words behind the words? Brad Weston's life seems perfect. He's GQ handsome, the chief of staff for a Republican California state senator, and enjoys the power and the promise of a bright future. And he's in a comfortable relationship with his boyfriend of six years, Alex. Sam Fuller is Brad's young blond blue-eyed intern, fresh out of college, running from a bad breakup, and questioning his choices and his new life in politics. To make things worse, Sam also has a thing for the boss, but Brad is already taken. While looking for a gift for his boyfriend, Brad wanders into a curiosity shop and becomes fascinated by an old wooden medallion. Brad's not a superstitious man, but when he takes out the medallion in his office, he sees the world in a whole new light. And nothing will ever be the same.
Between the Lines