Word Count: Information not available
Summary: How does a world armed with bows, arrows and catapults, where steam power is just beginning to replace horses and sailing ships, avert a conquest from beyond the stars? Prince Regilius has been engineered to combat the Dalthin, a predatory alien species that enslaves worlds telepathically, and to do so he must unite his people. But when his mother murders his father, the land descends into chaos and his task may prove impossible. Faced with slaying the one who gave him life in order to protect his world, he seeks a better way. Set in a vast and varied land where telepaths and those with unusual mental abilities tip the course of events, Awakening goes to the heart of family, friendship and betrayal. "In AWAKENING Raymond Bolton presents us with an intricate and interesting problem, characters you care for, aliens who -are- alien, and a carefully-thought-out future."—Mike Resnick "Raymond Bolton's genre shattering Awakening is a skillfully woven hybrid of science fiction and fantasy that brings cultural conflict to a whole new, thoroughly believable level that goes straight to the heart of what really matters."—Matthew J. Pallamary – author of Land Without Evil and Spirit Matters. "Bolton navigates through the plot lines and the mixed genres (Science Fiction but not exactly, Fantasy but not entirely, Paranormal but not completely) with the clear gesture of the conductor of a large orchestra. A new voice and author who is bound to grow a faithful readership."—Massimo Marino, international award-winning author of The Daimones Trilogy "it's a grand debut. An ambitious and well considered SF crossover [that] breathes originality into the genre"—BookViral
Awakening
April 5, 2017
Word Count: Information not available
Summary: Twenty four short stories, written by E.D.E. Bell between 2014 and 2020. Primarily a fantasy collection – sprinkled with humor, romance, and hope. Stories of wizards, Beatles, and a great many frustrated women.
Awkward Tomatoes
November 26, 2020
Word Count:
78000
Summary: In the final installment in the SoulShares series, author Rory Ni Coileain weaves together the myriad threads of this compelling paranormal romance in a climax that crosses time and space. Sometimes Fae love stories aren't what you expect. The Marfach—devourer of magick, long-imprisoned mortal enemy of the Fae race—is free of its Antarctic prison. The Demesne of Purgatory—Fae, humans, a Fade-hound puppy, a Gille Dubh, and a darag—is all that stands between the monster and the power it needs to destroy both the Fae Realm and the human world. The only clue they have as to how to kill the unkillable is a cryptic note from the Loremasters: "Osclór, Nartú; Tobar, Soladán; Nidantór, Breathea; Glanadorh, Coromór, Farthor; Scian-omprór, Nachangalte; Crangaol, Síofra; Gastiór, Laoc, Caomhnór; Fánadh, Ngarradh." Opener, Strength; Wellspring, Channel; Unmaker, Judge; Cleanser, Equalizer, Sentry; Blade-bearer, Unbound; Tree-kin, Changeling; Binder, Warrior, Guardian; Wanderer, Sundered. As they rebuild Purgatory from the rubble the Marfach left behind, they have to stand together, using everything they know—everything they are to their partners, lovers, husbands. Everything SoulSharing has made them. And not everyone who enters the final battle will leave it.
Back Door Into Purgatory
October 2, 2019
Word Count:
70000
Summary: As far as rock star Gareth Kendrick, the last true bard in Faerie, is concerned, the only good Unseelie is . . . well . . . there's no such thing. Two centuries ago, an Unseelie lord abducted Gareth's human lover, Niall, and Gareth has neither forgotten nor forgiven. Niall O'Tierney, half-human son of the Unseelie King, had never lost a wager until the day he swore to rid the Seelie court of its bard. That bet cost him everything: his freedom, his family—and his heart. When he's suddenly face-to-face with Gareth at the ceremony to join the Seelie and Unseelie realms, Niall does the only thing inhumanly possible: he fakes amnesia. Not his finest hour, perhaps, but he never revealed his Unseelie heritage, and to tell the truth now would be to risk Gareth's revulsion—far harder to bear than two hundred years of imprisonment. Then a new threat to Gareth's life arises, and he and Niall stage a mad escape into the Outer World, only to discover the fate of all fae resting on their shoulders. But before they can save the realm, they have to tackle something really tough: mending their own broken relationship.
Bad Boy's Bard
September 18, 2017
Word Count:
95877
Summary: A bargain must be struck before the Age of Mortals can be truly realized. For Elise, Ermolt, and Athala, the price is high. Not only do they have to find the dragons that have been hidden for centuries, but they have to kill them. ​ Their first stop is Jalova, home of Teis, God of the Sky, and their enemies the overseers, a group of thieves led by Merylle Callac, former High Priest of Teis. ​ Merylle wants help them, and her terms are simple - she wants revenge of her former God. Elise and her companions are more than willing to comply. ​Will Elise, Athala, and Ermolt be able to slay Sirur with Merylle's help, or will they face the wrath of Meodryt for their failure?
Bargain
March 31, 2018
Word Count: Information not available
Summary: Once upon a time in a world where magic and technology collide with unexpected consequences… Bellarosa sleeps, her previous life forgotten. As she dreams, she can but observe the world she sees in her mind and wonders if it is real. But one day, Tolliver stumbles into a tunnel leading to her resting place, and he can hear her. As she becomes part of his life, her dreams fill with budding love. But is Tolliver a figment of her imagination or a real human being? Can Bellarosa find her memories and learn the truth about her long sleep before she loses Tolliver and her own life? What if the Brothers Grimm had taken the dreams of "Sleeping Beauty" into account? The book includes a bonus story and the original fairy tale.
Bellarosa
June 14, 2016
Word Count: Information not available
Summary: [embed]https://www.youtube.com/watch?v=rB1UJbIzkZQ[/embed]
Ben the Dragonborn
November 4, 2013
Word Count:
68000
Summary: They'll take a leap into the unknown to protect the world. There's something seriously wrong with Earth's magic. A demon has appeared unsummoned out of thin air, familiars can't return Home, and as Grim points out, rats smell like summer in the middle of winter. Grim and Pip can deal with rats; Silas can banish one wayward demon. But soon there are other demons, more each day, and Silas's old mansion is full of mysteries. He and Darien will need their familiars, their friends, plus a whole lot of luck, as they search beyond Earth for the forces that have changed their world. And to have any chance of getting safely home, Silas will have to confront a past he's avoided for ten long years.
Beset by Demons
February 22, 2022
Word Count:
36000
Summary: Being invisible makes it really hard to get laid. When half-human Kai Schiffer steps into the Interstices—the post-creation gaps between realms—his supernatural half kicks in and he literally disappears unless…well, don't ask. But in a stroke (heh) of good fortune, Kai finally has a chance to show his face (and other parts, stars willing) to his long-time crush Jovan Kos—Interstitial Law Enforcement agent, wolf warrior, occasional berserker, and best man at their mutual best friends' Imbolc wedding. Jovan, who's half in love with Kai already, is grateful his best man duties are light enough that he can focus all his attention on Kai. After all, with Enchanted Occasions Event Planning handling the Olesson-Pakulski wedding, what could possibly go wrong?
Best Beast
January 17, 2021
Word Count:
19000
Summary: What if you could hear the words behind the words? Brad Weston's life seems perfect. He's GQ handsome, the chief of staff for a Republican California state senator, and enjoys the power and the promise of a bright future. And he's in a comfortable relationship with his boyfriend of six years, Alex. Sam Fuller is Brad's young blond blue-eyed intern, fresh out of college, running from a bad breakup, and questioning his choices and his new life in politics. To make things worse, Sam also has a thing for the boss, but Brad is already taken. While looking for a gift for his boyfriend, Brad wanders into a curiosity shop and becomes fascinated by an old wooden medallion. Brad's not a superstitious man, but when he takes out the medallion in his office, he sees the world in a whole new light. And nothing will ever be the same.
Between the Lines
January 10, 2021
Word Count: Information not available
Summary: Emeline's quiet village has three important rules: Don't look at the shadows. Don't cross the river. And don't enter the forest. An illustrated fantasy filled with beauty and power, Between the Water and the Woods sweeps you into a world where forests are hungry; knights fight with whips; the king is dying; and a peasant girl's magic will decide the future of the realm . . . When Emeline's little brother breaks all three of their village's rules, she is forced to use her family's forbidden magic to rescue him from the dark things he awakens, the Ithin. Now that the Ithin are afoot in the land, she must, by law, travel to the royal court and warn the king. But the only way she and her family can make the journey to the capital is with the protection of a sour magister and a handsome, whip-wielding Lash Knight. Will Emeline survive in a city where conspiracies swirl like smoke and her magic is all but outlawed? Seven full-page black-and-white illustrations accompany Between the Water and the Woods, a lush, fairy-tale-style fantasy perfect for readers of Karen Cushman and Shannon Hale.
Between The Water and The Woods
March 19, 2019
Word Count:
100000
Summary: Sassy and Owen Winslow were historical experts on the Revolutionary War and the Culpers, Washington's spy ring. After her husband dies unexpectedly, Sassy struggles to find new meaning in her life. When she goes exploring in the Cohutta Wilderness, she falls through a hole in time, and finds herself in the Indian Territory in 1778, falling in love with Big Sexy Will Selk. Will Selk, one of Washington's spies, falls in love with the spunky widow who came to live at McCarron's Corner after her husband's death. When he learns she came from Beyond, both Will and the Commander-in-Chief are eager to pick the historian's knowledge of the American Revolution – and in the process, Washington identifies the Culper Ring's Madame X, who turns the tide for the patriots to win the war when Sassy provides vital information.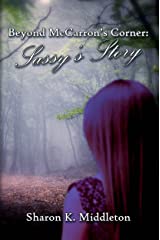 Beyond McCarron's Corner
February 18, 2018
Word Count:
8700
Summary: A dark fairy tale in a modern Norwegian setting. Ida, a young girl grieving the loss of her mother, is wandering in the snowy wilderness when she meets the mysterious Maja - a huldra from myth and legend. Taking comfort in Maja's kind arms, Ida makes a desperate wish for her family to be whole again... and gets far more than she bargained for. With the huldra's meddling, Ida finds her Pappa's life is suddenly at stake. To save him, she must battle against the wild valley she calls home and find the strength to confront the huldra before time runs out. This is a standalone short story of about 8,700 words, and is the first installment in the Dark Folklore series.
Beyond Thundering Waters
May 3, 2022
Word Count:
83000
Summary: THERE ARE REASONS WE FEAR THE NIGHT. HE'S NOT ONE OF THEM. Bill Ryder was a dateless dork, but then he met a girl to die for – so he did. Too bad his death is about to make his life a hell of a lot more interesting. Now he's a vampire, surrounded by creatures stronger, deadlier, and much cooler than he is. They're giving him just ninety days to prove he has what it takes to be an apex predator of the night, assuming he doesn't give them a reason to dust his ass sooner. Bill isn't exactly average, though. A vamp like him hasn't been seen in centuries. He's got a few tricks up his sleeve, unexpected allies, and an attitude that makes him too obnoxious to quit. Good thing, too, because he'll need all the help he can get if he wants to keep from dying – again. Join him in this hilarious tale of bloodthirsty monsters, gory mayhem, and an unlikely hero who, fangs or not, is still at the bottom of the food chain.
Bill The Vampire
January 10, 2014
Word Count: Information not available
Summary: Billy Ninefingers knows three things. First, the feud that cost him the use of his sword hand is not over. Second, if he doesn't pull himself together and become the leader the Rowdies need, he'll lose everything his father left him. Third, despite Bastard John's best efforts, there's no way he'll ever take up farming. All he needs is a plan, a mountain of luck, and the love of a good woman. Well, she doesn't have to be good, but a few scruples would make a nice change. A plan would be nice too, since luck is never on Billy's side. Billy Ninefingers knows one thing. He's doomed.
Billy Ninefingers
February 22, 2018
Word Count:
135000
Summary: I am the dark foreigner among pale-skinned mercenaries, crossing exposed grasslands. My only ally is a sinister scholar hiding scars from past rituals. He alone knows I carry a child. Each day assaults my senses and leads me farther away from home. Inevitably, my mission will lead out of isolation to the first Human settlement in my path. With few watching my back and more tempted to exploit it, I wade into an unforgiving test of my training and vigilance, determined not to be pulled down. Twisted portents and pious zealotry expose danger in every direction, while new, threatening dreams of distant sands muddle my Queen's past with my present. As all close in around me, I must find a way to serve the Valsharess and slip free of man-made chains which would enslave me. In Black Witch, Death Mage, far-reaching threads and mystical visions constrict to bind those within it, pulling the tales of present and past closer than they've been in thousands of years.
Black Witch, Death Mage: Sister Seekers 5
December 6, 2020
Word Count:
4500
Summary: It's the Night of Winter Lights. Heedless of the holiday, the Commander of the H'Aren fortress, Captain Torýn Torhdhar, seems to find his satisfaction in work. Such occurrence hardly surprises his Orderly, Sæbastyn Hyago, even though the young Lieutenant has spent a silent, aching decade wishing his superior officer would pursue pleasure elsewhere—specifically in his arms. But as the evening continues, nothing about it meets Sæbastyn's expectations. Will the Lieutenant see his secret desires realised, or his heart shattered? This alternative winter holiday short, set in the Order Universe, will be available FREE in December as a part of the 2017 Rainbow Advent Calendar.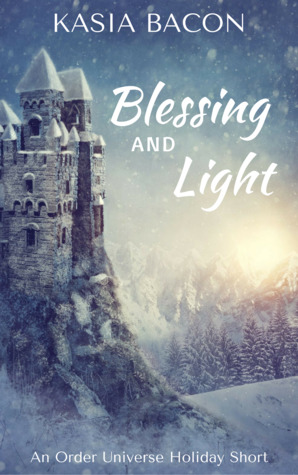 Blessing and Light
November 20, 2017
Word Count:
123179
Summary: Arrigo Giancarlo's friends think he's a rich young man with the unusual job of paranormal investigator, working with his psychic assistant in Las Vegas. In truth he's a two-thousand-year-old vampire and member of the Chiaroscuro, a group of Supernaturals dedicated to keeping humanity safe from the more dangerous of their kind. He's also openly bisexual… but alone. When he spots Luc St. John in a bar, Arrigo is intrigued. What begins as an effort to repay the kindness shown to him in the past quickly turns into much deeper feelings for the suffering and displaced Cajun. For Luc's part, he feels too poor, too uneducated, and too bound to his hateful family to ever be worthy of elegant and cultured Arrigo. An old enemy, Eleni, blames Arrigo for murdering her true love. On the anniversary of that death, she's back to take revenge. As Arrigo's closest friends fall victim to savage attacks, he fears nothing will keep Luc safe. Should he break both their hearts and let Luc go, or is it too late? If Luc's already in Eleni's sights, Arrigo knows that like most things in Vegas, the odds are against him.
Blood Red Roulette
November 13, 2018
Word Count:
75000
Summary: Sleepwalking may be the death of me… again. I thought things would get better now that I no longer had assassins after my head. Although it's fun eating people who misgender me, I'm just so thirsty all the time. And until I improve, I'm barred from seeing Jack, my were-jackal boyfriend. My babysitter, I mean 'vampire mentor,' isn't much help either. As if things weren't bad enough, the amulet that started this mess is whispering to me. Calling me somewhere. I think it might be my mysterious maker. Judging by the trail of bodies they're leaving across the globe, I don't want to know what will happen if I can't keep resisting.
Bloodline of the Ancients
July 13, 2022
Word Count: Information not available
Summary: Lasair Faol, Master of the Fade-Hounds to the Royal court of the Demesne of Fire in the Fae Realm, has been exiled to the human world by the Princess Consort for failing to catch her son's kidnapper. Bryce Newhouse, Greenwich Village investment banker, is universally loathed by all who know him. Generally, he's perfectly cool with that, but he discovers what he's been missing—literally — when he finds Lasair chained in his basement. Bryce was supposed to receive half of Lasair's soul at his birth, but thanks to the Fae of Purgatory, the Pattern — the portal between the worlds — has been damaged, and Bryce's soul arrived 31 years too late. Now the exiled Fae is the shunned human's only hope of healing his broken past. And with the fate of two worlds riding on that healing, Lasair is going to have to overcome both his race's innate mistrust of genuine emotion and his own very unFae awkwardness, to have any chance of reaching Bryce's impenetrable heart.
Blowing Smoke
July 12, 2015