Word Count: Information not available
Summary: In the fourth and final installment for the series, Alex faces his most difficult case yet: the school bully. For two years, Kyle had no qualms making Alex's life even more complicated than it already was. Choosing to single him out for his psychic abilities, the angry teen took every chance to undermine Alex's well-being. But When Kyle is unexpectedly murdered, his ghost seeks out Alex for the very power he'd been stigmatized for. Despite their fraught history, Alex must set aside old wounds to help a soul in need. Searching for the killer, Alex uncovers why Kyle had victimized him so intensely, and it's not what he ever could have expected.  The truth, it turns out, will set them both free.
Alex McKenna & Death Is Not The Beginning
September 20, 2022
Word Count: Information not available
Summary: For a minute, everything in Alex McKenna's life was perfect. He only had one year left of high school, his girlfriend Margaret was the love of his life, and he couldn't ask for a more supportive family. His psychic powers were growing and he was learning more and more about his family's abilities as Strega witches. Things were good. Until the night it all fell to pieces. As Margaret lies in the hospital after a serious car accident, her disembodied spirit searches for a way back to the living. Alex is desperate to save her and the victims of his next case: an ominous being haunting the hospital and stealing the souls of infants and the elderly, sending them straight to Hell.
Alex McKenna and A Winter's Night
December 14, 2021
Word Count: Information not available
Summary: The highly anticipated second installment in the award-winning Alex McKenna Series, this LGBTQ teen paranormal adventure perfect for fans of Aidan Thomas' CEMETERY BOYS and LOST IN THE NEVER WOODS. After surviving a harrowing case, Alex McKenna just wants to rest. Unfortunately, his plans are interrupted by the ghost of seven-year-old Haven, who is lost in an in-between realm. Despite his great-grandmother's warning, Alex crosses the bridge between the living and the dead, which sends him and his girlfriend into the world of the Academy of Souls, a high school for dead teens who are unable to complete their journey. There, Alex meets Ophelia, Haven's teenage sister, who's been searching for her for more than a century. With new companions, Alex must cross the treacherous terrain of the Underworld in-between, to save Haven from the clutches of the Soul Gatherer and reunite the sisters.
Alex McKenna and The Academy of Souls
October 14, 2020
Word Count: Information not available
Summary: An LGBTQ teen paranormal adventure perfect for fans of Aidan Thomas' CEMETERY BOYS and LOST IN THE NEVER WOODS. For Alex McKenna, high school is just a distraction until he can go to college and spend more time with Margaret, the love of his life. Alex an average seventeen-year-old boy...except for the fact he's a transgender medium born from a long line of Strega witches, possessing the ability to communicate with ghosts. With the help of Margaret and his Strega great-grandmother, Alex will learn how to strengthen his abilities. The dead need Alex to help them resolve their unfinished business, and he finds that he needs them, too. As his abilities strengthen, assisting the dead becomes an outlet to channel his new energy, giving him the strength to come to terms with his identity and how far he will choose to go.
Alex McKenna and The Geranium Deaths
September 17, 2019
Word Count:
20000
Summary: A story born in the hollers of Eastern Kentucky. Elizabeth Robinson. An Elizabeth Robinson has lived in the hills of Eastern Kentucky as long as people have built permanent settlements in the lush, green forests. While the mountains recover from the War of Northern Aggression, the simple folk seek the healings of the Robinson women. Three generations, working the ways from the old country, live in isolation. The youngest Elizabeth Robinson, a healer by happenstance, despises her role in the family. She longs for freedom, the wilderness of her youth, an escape from a dark secret. Alone in the forest, she stumbles upon the ghost of a Yankee soldier, Samuel Henry. Determined to help Samuel pass beyond the veil, Elizabeth brings him back to her mountain home. Turning of the wheel of fortune, prosperity changes to misfortune for the Robinsons, and a menacing figure lingers like a thick fog. Generations, built on lies, force Elizabeth to face a bleak reality and make the ultimate sacrifice.
Apparitions of Elizabeth Robinson
December 19, 2019
Word Count:
83400
Summary: Artists use all manner of materials to express their vision, to interpret the world around them, to affect the hearts and minds of their audience. But what if the artist himself were the medium? And what if artistic inspiration weren't the only force at work? If painter Stefan Cobbe and art investigator Luke Morganstern don't answer those questions fast, they stand to lose their reputations, their relationship — and their lives. **Omnibus edition contains both The Artist's Touch and Tested in Fire
Art Medium
June 18, 2018
Word Count:
68000
Summary: They'll take a leap into the unknown to protect the world. There's something seriously wrong with Earth's magic. A demon has appeared unsummoned out of thin air, familiars can't return Home, and as Grim points out, rats smell like summer in the middle of winter. Grim and Pip can deal with rats; Silas can banish one wayward demon. But soon there are other demons, more each day, and Silas's old mansion is full of mysteries. He and Darien will need their familiars, their friends, plus a whole lot of luck, as they search beyond Earth for the forces that have changed their world. And to have any chance of getting safely home, Silas will have to confront a past he's avoided for ten long years.
Beset by Demons
February 22, 2022
Word Count:
23000
Summary: Christmastime brings out memories, and ghosts. Silas tracks down a poltergeist haunting a local tree farm. Darien hopes to convince Silas that despite experiences with demons and hells, Christmas can still be fun. Pip tries to catch his first rat. And Grim watches from a high vantage point and a position of moral superiority—he has holiday memories of his own, but cats know how to keep a secret. - A 23,000 word holiday novella in the Necromancer series.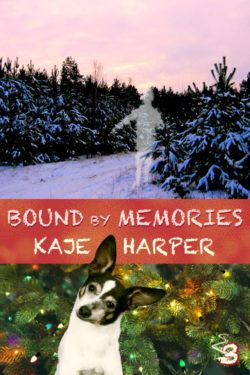 Bound by Memories
December 19, 2020
Word Count:
73027
Summary: If blood really is thicker than water, are the ties that bind a found family stronger than the ties of blood? After a decade of homelessness and living off his own wits, Tris has lost all faith in the kindness of strangers. And after years of letting his friends down time after time, Ozzy knows he's the last person anyone should count on. When Tris's search for his lost younger brother lands him in a small town at an overly-friendly Bed and Breakfast, everyone, including the B and B herself, seem to be pushing Tris and Ozzy together. Tris learned a long time ago, under the fists of his manipulative step-father, that family can't be trusted, and love means nothing. Torn between the desire to see Tris thrive in his new home, and the need to protect the very younger brother Tris came looking for, Ozzy has some hard choices ahead. Welcome back to Griffon's Elbow and The Oaks B&B, aka Mildred. She's not the only sentient house in town.
Brother's Keeper
May 31, 2021
Word Count:
17651
Summary: Damien is a 14 year old orphan that has grown up  in foster homes all his life. He finds out that he is a "Vampeal" , a child born from a vampire and human. If that wasn't bad enough Damien is a teenager that is dealing with his feelings for other boys. Damien is put into a home that the foster parents are very religious and he ends up on the street. Patrick is Damien's caseworker and if fresh out of college is assigned to look after him but finds out that Damien is no longer at the foster home. So Patrick sets out to look for him, which turns out to be a very dangerous road for both of them.
Child under the stairs
May 25, 2020
Word Count:
33000
Summary: Clarity (noun) Four definitions to inspire writers around the world and an unlimited number of possible stories to tell: 1) Coherent and intelligible 2) Transparent or pure 3) Attaining certainty about something 4) Easy to see or hear Clarity features 300-word speculative flash fiction stories from across the rainbow spectrum, from the minds of the writers of Queer Sci Fi.
Clarity
October 5, 2022
Word Count:
74000
Summary: Sometimes you have to fight fire with fire. Darien's ready for a quiet life— back to studying, sleeping with his ridiculously appealing necromancer, playing magical Fetch with his dog-familar. But breaking the demon portals was only a temporary solution, when there are sorcerers out there rebuilding them. Much as he'd like to shove the rest of the job on someone else, Darien's not willing to see his world burn. Silas is ready to turn the whole hunting-dark-sorcerers mess over to the Guild. Except he doesn't trust his council members as far as he can throw them, the sorcerer Chicago has sent sets his teeth on edge, and if they get it wrong, Darien's life is at risk. So with Grim at his side, and Pip encouraging Darien, they, Jasper, and Magda will take on one more hunt to find and stop the portal-builders.
Consumed by Fire
August 20, 2022
Word Count:
70000
Summary: When ghosts reach across the veil, Daniel Collins is there to tell their stories. Dan is a vlogging ghost hunter. He has devoted his life to documenting paranormal activity. In his converted van, he travels around the country exploring haunted sites. He loves the thrill of filming restless spirits. Chad Brewer, skeptic, works for an insurance company. He doesn't believe in ghosts, but watching Dan's vlog is his guilty pleasure. The cute vlogger is accident prone. He has Chad's work extension on speed-dial. The two talk whenever Dan gets hurt during an investigation, a frequent occurrence. When Chad loses his job for approving too many claims, Dan offers him a position as his personal assistant. The pair sets out to investigate a haunted dairy barn for the vlog's next video series. The catch is that they must live and work together in Dan's tiny traveling home. As the paranormal activity at the haunted dairy ramps up, so does the romantic tension between the two men. Can the love between a skeptic and a social media sensation conquer a vengeful ghost? Dan's Hauntastic Haunts is a paranormal MM romance between a gay vlogger and his trans personal assistant. Buckle up for a hauntastic good time.
Dan's Hauntastic Haunts Investigates: Goodman Dairy
October 22, 2019
Word Count:
64000
Summary: When ghosts cry out, Dan and Chad heed their call. Daniel and Chad are on the road to Hawk Lake, Maine, to investigate rumors of a haunting. With his new role in Daniel's life, Chad feels like he has something to prove. He is determined to make the Hawk Lake haunting videos the best Hauntastic Haunts has ever aired. Daniel gets sidetracked when he realizes that he might have gotten in over his head with his long distance apprenticeship to a genuine medium. Old insecurities rear their heads and threaten the budding relationship between Dan and Chad. Neither member of the Hauntastic Haunts crew is ready for what they uncover when they discover the truth behind the ghost ship haunting Hawk Lake. Secrets and lies that threaten to tear apart a community that is still healing from their grief might be better left buried. Daniel and Chad have to decide which is more important, telling the stories of the living or preserving the memories of a handful of ghosts. Get ready for another hauntastic adventure with this paranormal trans M/M romance.
Dan's Hauntastic Haunts Investigates: Hawk Lake
June 20, 2020
Word Count:
74000
Summary: When a curse comes calling, Dan and Chad confront their greatest challenge yet. Hauntastic Haunts is investigating the historic Ivarsson School. With Halloween right around the corner, the vlog is in peak season. Dan and Chad are eager to explore the decades-long string of strange deaths among the school's young scholars. While they delve into the mystery, both men must come to grips with Chad's newfound talents as a medium. Dan and Chad's efforts to uncover the haunting's truth meet with mixed messages from both the living and the dead. They're left wondering if this month's site is full of tricks, or if there's a treat awaiting discovery. The locals blame a curse for all the misfortune at the one-room schoolhouse, and if the pattern holds, the guys are at risk of becoming the latest victims. Join ghost hunters Dan and Chad on their third hauntastic adventure in this trans M/M paranormal romance.
Dan's Hauntastic Haunts Investigates: Ivarsson School
September 30, 2020
Word Count:
60000
Summary: A teen without a home. A dangerous residence. Can she survive one terrifying night to secure her future? Charlene Griffin never thought she'd be without a home. But when she's kicked out on her eighteenth birthday, she has no choice but to sleep inside an ominous Victorian mansion. And with the owner offering the estate to anyone who can spend a full night in the haunted property, Charlene decides to risk life and limb to get off the streets. Refusing to heed the warnings of those sent running in fear for their lives, Charlene is confident she can last from sunset to sunrise. But she'll need all her wits about her to withstand the hours of terror, because these ghosts are determined to get rid of her. Will Charlene outsmart her supernatural foes and make it to dawn? Defying the Ghosts is an eerie YA haunted house story. If you like heart-racing action, fearless heroes, and survival adventures, then you'll love Joan Marie Verba's thrilling tale. Buy Defying the Ghosts to explore forbidden shadowy corners today!
Defying the Ghosts
September 26, 2020
Word Count:
73000
Summary: Vampires and werewolves live long lives. The Sleepless City saga might have ended but the story continues… Someone is hunting supernaturals.  Vampire Simon Hawthorne and his human partner Ben Leyton's plans for a peaceful holiday with family are hijacked by the New Zealand Supernatural Council. Tensions are on the rise in Wellington. Supernatural councillors are disappearing. Werewolves are suspicious of anyone human or vampire. If they don't work together, their enemy has already won. And no one with a connection to the supernatural world is safe.
Double Exposure
July 11, 2022
Word Count:
42,203
Summary: Katja has long spent her life buried in the pain and sorrow of her past, a vampire abandoned to her fate for over 300 years, she never expects to meet another who could help her reclaim her existence. Raven, a poet and fellow lost soul, could be the one to spur her on, but in order to have the future she has only begun to grasp, she must uncover the truth about her origins and the awful event which left her alone centuries before. If she cannot face her past and reclaim her strength, she will lose everything.
Eyes Like Blue Fire
July 18, 2019
Word Count:
109728
Summary: Henry Ross Murray was a Revolutionary War hero, and his house in Boston has been converted into a museum. Everything is original to the period… including the ghosts. The Ghost U team is called in to help figure out who's haunting the Colonial mansion in Beacon Hill. They encounter family secrets and angry spirits in the course of their investigation, and they learn that some heroes aren't as heroic as they seem. So much drama. And that's nothing compared to what's happening behind the scenes. Faces in the Fog: Ghost U Volume Two is a paranormal Reverse Harem adventure with horror elements and is intended for mature audiences.
Faces in the Fog
July 28, 2020
Word Count: Information not available
Summary: Here you'll find tales of the supernatural, betrayal and murder; the mistakes that lead to the fall of empires and the constant tug of war that haunts mankind. There's a blend of science fiction, fantasy and horror - from a modern day detective facing a serial killer to a future utopia filled with disloyalty. Lovers of romance will find a little something for them too, but within these bright sparks of hope shades of darkness lurk.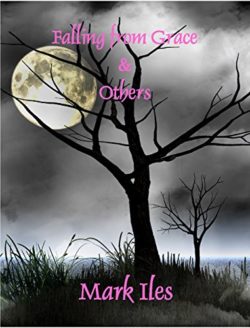 Falling from Grace, & Others
October 27, 2014