Word Count:
15600
Summary: Following his successful base jump from Fred Noonan Skyport, Tiger Bailey undertakes the next step in the development process of the Gryphon hardshell wingsuit, a drop from Low Earth Orbit. Using the Gryphon-10 with enhanced navigation and computer control, and with a greater wingspan, he uses the Slingshot Space Launch Loop to gain Low Earth Orbit (LEO), but experiences equipment problems that nearly destroy him and doom the project. Ultimately, Tiger perseveres and drops into the Earth's atmosphere. He skips out in in several times before eventually making a harrowing but safe landing.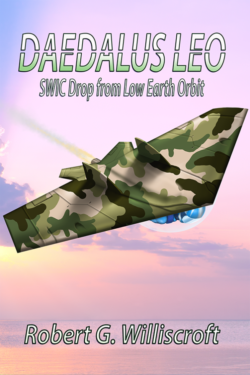 DAEDALUS LEO—SWIC drop from Low Earth Orbit
October 8, 2019
Word Count:
12300
Summary: After his successful proof-of-concept drop from Low Earth Orbit (LEO), Tiger Bailey's squad undertakes the next step in the development process of the Gryphon hardshell wingsuit, a coordinated drop from LEO by six team members. They tried to plan for every conceivable contingency, however, Mother Nature intervened with disastrous results.
DAEDALUS SQUAD—SWIC Squad drop from Low Earth Orbit
October 27, 2019
Word Count:
13500
Summary: Using a new Gryphon-7 hard-shell wingsuit, Tiger Baily, irreverent member of the Navy SEALS Winged Insertion Command, makes a harrowing first experimental base jump from the edge of Space, the Fred Noonan Skyport 80,000 meters above Jarvis Island in the Equatorial Pacific. Tiger's target, which he must reach to survive, is Kiritimati Island, a tiny isolated atoll 379 km northeast of Jarvis over ever-threatening and oh-so-deep ocean waters.
DAEDALUS: SWIC Basejump from Fred Noonan Skyport
June 21, 2019
Word Count:
87000
Summary: Dalí Tamareia has everything--a young family and a promising career as an Ambassador in the Sol Fed Diplomatic Corps. Dalí's path as a peacemaker seems clear, but when their loved ones are killed in a terrorist attack, grief sends the genderfluid changeling into a spiral of self-destruction.Fragile Sol Fed balances on the brink of war with a plundering alien race. Their skills with galactic relations are desperately needed to broker a protective alliance, but in mourning, Dalí no longer cares, seeking oblivion at the bottom of a bottle, in the arms of a faceless lover, or at the end of a knife. The New Puritan Movement is rising to power within the government, preaching strict genetic counseling and galactic isolation to ensure survival of the endangered human race. Third gender citizens like Dalí don't fit the mold of this perfect plan, and the NPM will stop at nothing to make their vision become reality. When Dalí stumbles into a plot threatening changelings like them, a shadow organization called the Penumbra recruits them for a rescue mission full of danger, sex, and intrigue, giving Dalí purpose again. Risky liaisons with a sexy, charismatic pirate lord could be Dalí's undoing--and the only way to prevent another deadly act of domestic terrorism.
Dalí
August 7, 2017
Word Count:
70000
Summary: When ghosts reach across the veil, Daniel Collins is there to tell their stories. Dan is a vlogging ghost hunter. He has devoted his life to documenting paranormal activity. In his converted van, he travels around the country exploring haunted sites. He loves the thrill of filming restless spirits. Chad Brewer, skeptic, works for an insurance company. He doesn't believe in ghosts, but watching Dan's vlog is his guilty pleasure. The cute vlogger is accident prone. He has Chad's work extension on speed-dial. The two talk whenever Dan gets hurt during an investigation, a frequent occurrence. When Chad loses his job for approving too many claims, Dan offers him a position as his personal assistant. The pair sets out to investigate a haunted dairy barn for the vlog's next video series. The catch is that they must live and work together in Dan's tiny traveling home. As the paranormal activity at the haunted dairy ramps up, so does the romantic tension between the two men. Can the love between a skeptic and a social media sensation conquer a vengeful ghost? Dan's Hauntastic Haunts is a paranormal MM romance between a gay vlogger and his trans personal assistant. Buckle up for a hauntastic good time.
Dan's Hauntastic Haunts Investigates: Goodman Dairy
October 22, 2019
Word Count:
74000
Summary: When a curse comes calling, Dan and Chad confront their greatest challenge yet. Hauntastic Haunts is investigating the historic Ivarsson School. With Halloween right around the corner, the vlog is in peak season. Dan and Chad are eager to explore the decades-long string of strange deaths among the school's young scholars. While they delve into the mystery, both men must come to grips with Chad's newfound talents as a medium. Dan and Chad's efforts to uncover the haunting's truth meet with mixed messages from both the living and the dead. They're left wondering if this month's site is full of tricks, or if there's a treat awaiting discovery. The locals blame a curse for all the misfortune at the one-room schoolhouse, and if the pattern holds, the guys are at risk of becoming the latest victims. Join ghost hunters Dan and Chad on their third hauntastic adventure in this trans M/M paranormal romance.
Dan's Hauntastic Haunts Investigates: Ivarsson School
September 30, 2020
Word Count:
79,025
Summary: Solving mysteries is her business. Finding love is her dream. Will combining the two get her killed? Victorian Era England. Stetson revels in being unconventional. So when society shies away from her independent nature, the bold woman creates an imaginary boss and opens her own detective agency. And her keen observational skills, convincing disguises, and Holmesian methods quickly bring in a string of tough-to-crack cases. Struggling to squeeze a personal life in around a series of hazardous investigations, Stetson worries she'll never find a woman of like-passions. But with her heart set on true love despite the risk, she carries on hunting for the perfect relationship. Will her clever escapades lead to death… or delight? Daring Duplicity: The Wellington Mysteries, Vol. 1, Adventures of a Lesbian Victorian Detective is a collection of five sequential novellas, each encompassing its own exciting mystery while furthering the story of Stetson's life in London. If you enjoy crime dramas, Victorian era fiction, or a sweet lesbian romance, then you'll love award-winning author Edale Lane's Daring Duplicity. Order yours today!
Daring Duplicity
January 19, 2022
Word Count: Information not available
Summary: He tried to bury it. But some things refuse to stay hidden. Having survived his encounter with the mysterious Sil race, Caspian and the crew of the USCS Tempest receive a new assignment: investigate the threat emerging far beyond the Coalition's borders. With its advanced engines, Tempest is the only ship fast enough to reach whatever is out there before they cross into Coalition territory. But just because Cas is part of the mission now doesn't mean the crew has to like it. Being back on board a starship hasn't been easy, and now that he's been tasked with keeping their new ally from killing the crew, it isn't getting any easier. It seems his only option is to bury what the Coalition did to him and return to the model officer he used to be. Tensions and tempers rise when the ship gets stuck at the edge of a seldom-traveled nebula, costing them precious time and energy. But is there something more to this dark edge of space? As the mystery unfolds, Caspian realizes not only is this unlike anything he's ever seen before, but he may not be able to bury his past as deep as he hoped. Brand new from bestselling author Eric Warren, DARKEST REACH is the third installment in the INFINITY'S END SAGA. Fans of Star Trek, Firefly and The Twilight Zone will enjoy this illuminating look into what really resides in the darkest corners of space and our minds.
Darkest Reach
June 10, 2019
Word Count:
110100
Summary: Nate's no supernatural expert, but even he knows a murdered man coming back to life to kill him can only mean one thing—the necromancer is back and out for revenge. Recruited by Department Seven in a desperate attempt to stop Peter before he claims new victims, Nate quickly realizes he's in way over his head. His powers are failing him, he's haunted by Peter's ghost, and he can't even remember how he stopped Peter the first time—or why he feels that someone very important is missing from his life. Ben is fighting for his afterlife. Trapped in the supernatural version of solitary confinement, he knows freeing himself will destroy New Camden's fragile peace—but what choice does he have? The longer he spends in his magical prison, the harder it becomes to resist his inner vampire. But if Ben wants to help Nate prevent Peter taking over the city, he has to prove himself to his sire—Saltaire, a thousand-year-old vampire with no qualms about using his immense power to suppress Ben's free will. As the casualties mount and the city descends into chaos, Ben and Nate must overcome their worst fears and impossible odds—or be written out of existence entirely.
Dead Wrong
February 26, 2018
Word Count: Information not available
Summary:
Durham, North Carolina has industry, commerce, fine universities, a world-famous baseball team, technopagans, vampires, and its very first superhero and supervillain.
As Withrow Surrett, self-declared vampire lord of North Carolina, digs in to see what's up in his own back yard, two mortals - The Bull's Eye and El Diablo - make headlines fighting crimes and committing them. With the help of friends old and new, Withrow has to track down both hero and villain before his city decides to go looking for even weirder things that go bump in the night!
The fists fly fast and furious in the third installment of this vampire and urban fantasy series, perfect for fans of Rick Gualtieri, Jeff Strand, or Christopher Moore.
Deal with the Devil
August 21, 2017
Word Count:
70000
Summary: Music from Hell has gone viral … and you'll love it to death. Devastated by the car crash that killed his bandmate, guitarist David Fairburn has given up on life—until Vince Buckley returns from the dead to complete the band's final album. Jessica Chandler needs something new and different to save her struggling record label. But those who stand in the way of the music's release begin to die one by one, and when the first single is posted on the web, listeners become "Loopers," addicted to the music—and murderous. As the violence spreads, David and Jessica must survive the chaos to prevent Vince from releasing the entire album on the Internet. But can David sacrifice the most brilliant work he's ever done to save Jessica and prevent a global bloodbath?
Death Metal
July 9, 2017
Word Count: Information not available
Summary: He killed the only family she had. Now he's after her. When Maia Gellman loses her home, job, and family in one night, she does the only thing she can do: run. It's easy to get lost on the road with a new band, new friends, perhaps a new life. But the demon she left behind is gaining ground, and it awakens something sinister within her. Will Maia find a way to stand and face the demon, or will she succumb to the fate he has in store for her?
Demon Veil
June 26, 2018
Word Count:
28000
Summary: Monty has a special power that no one else possesses. And he hates it. He just wants to live a quiet cheese sandwich and tap water life. Fate, being the fickle bitch it is, has other plans. His best friends, Lark and Sean, have abilities as well and the trio encounter three mysterious people who show them, they are not alone. It would be nice if any of them had useful abilities, but take what you can get, right? As a result, Monty is forcibly dragged into a world of coffee-addicted villains, half-competent goons, and pompous windbags. Monty must use his wits against the witless to save himself and his friends. To do so he must embrace being the DICK WIGGLER.
Dick Wiggler and Other Useless Superpowers
April 25, 2022
Word Count:
73000
Summary: Vampires and werewolves live long lives. The Sleepless City saga might have ended but the story continues… Someone is hunting supernaturals.  Vampire Simon Hawthorne and his human partner Ben Leyton's plans for a peaceful holiday with family are hijacked by the New Zealand Supernatural Council. Tensions are on the rise in Wellington. Supernatural councillors are disappearing. Werewolves are suspicious of anyone human or vampire. If they don't work together, their enemy has already won. And no one with a connection to the supernatural world is safe.
Double Exposure
July 11, 2022
Word Count:
7300
Summary: Two brothers find misery in California's Gold Rush until a Chinese doctor promises them riches. They should have asked, at what price? Set in the Trinity Mountains, this is the first book - a single story - in a series of short reads in science fiction and fantasy.
Dragon Bones - A Fantastic Tale
October 19, 2018
Word Count:
118937
Summary: Frank Grimes is a lowlife, no count, barely classifiable as a human, male who just happens to have enough sense to hire and retain qualified construction workers. He landed the contract to build most of Draoithe in January of 2016. He's not only worthless, but he's also criminal filth. He will do anything for an easy dollar. After the Draoithe housewarming party, his true colors shine through when he attempts to rape the architectural designer in her apartment after driving her home. Luke can't afford to let Jace kill him or allow Flame to turn him as dragonsworn, but there is no way that Frank can be allowed to just get away with what he's done. Even the Assassin King wants him dead, and he is the dragon called to serve one miscreant underking. Sentenced to house arrest and forced labor, Grimes seeks a way to fulfill the requirements Luke sets on him to gain enough respect that Javier will turn him into a canine shifter until he meets a blood demon who wants to help Luke out. Is it possible to totally rehabilitate the walking filth that is Frank Grimes into a real man in order to help him avoid certain death and turn him into a wolf? Or will the demon simply drink him dry and slowly end his miserable existence?
Draoithe: Filth and Death
February 14, 2020
Word Count:
107884
Summary: Julian Gypsun used to be a young man on his way to becoming a contractor. Everything changed when he died and was resurrected as a wizard's familiar. He was immortal and far better off physically than he had been as a human. Still, he was trapped with his life chained to a giant of a wizard who had no problem abusing him in every way imaginable. Julian was powerless to stop it without ending his own existence. That is until he was yanked bodily through his own portal, transported to Draoithe, and assigned to babysit the visiting dignitary, Amazon Warrior Princess Zephyra, and try to convince her that her people should ally themselves with Luke and Draoithe. That sounded easy, but it wasn't. He liked her. He had no clue how to act on that. Best to avoid that altogether. Keeping her safe just might equal his death. (Please see her warrior princess title.) She was old and so far out of his league. Worse, she liked him and was determined to have him. He can't even consider that. She has no idea how broken he really is.
Draoithe: Midnight Magic
October 23, 2020
Word Count:
91154
Summary: Flame is scarred from a past filled with lies, deceptions, and heartbreak. He is not guilty of what his brothers believe, but Blaze is the only one who knows the truth. He was betrayed by the king he had served. The girls he gave the dark gift to had been innocent. When he finds his Valkyrie, beaten, raped, broken, and fading after having been forced to accept the dark gift without her consent, Flame vows that he will do anything to save her. The light seems gone from both her and the world she finds herself in. Little does Flame know that for her to have the light again, he will sacrifice his honor, his integrity, and his life after breaking every law he can manage to break and even demand absolution for crimes he never committed. Many men say they will die for the love of their life. Flame somehow needs to do it four damn times, find a way to fix not only her broken magic, but fix her broken spirit as well, and then figure out how to live for her! All men wish to love a vampire, but Flame burns in his soul for one who holds the fire and has been granted the dark gift of an immortal vampire princess.
Draoithe: The Dark Gift
July 29, 2019
Word Count:
135408
Summary: Alexio Asmodai is the demon king of Eaglafonn, a small outpost kingdom in the Netherworld overruled by the Demon Lord Asmodeus. It is Alexio's responsibility to protect and police the frontier borders against any threats. He is an accomplished knight, so that part came easy. Eaglafonn is a cold and isolated kingdom. Alexio needed to stay and build his castle atop the hot springs to beat an addiction to seduction sickness. After over seven centuries, he thinks his loneliness has finally come to an end when he opens a crate to find a woman sent by Asmodeus for him to keep safe. He falls for her instantly. She is a human woman, fragile, timid, and irresistible. He must follow his liege's directive, convince her to become his queen, and see that she is cared for properly in a place that is inhospitable to her existence. This leads to a realization that his castle lacks a lot to be a first-class home for a lady. Can a tainted demon prince rise to the challenge to become a true king and win the woman who stole his heart? Dread Allies 7-14 The Shadow king of Eaglafonn has chosen his queen, but his castle lacks the feminine element. To make her more comfortable, he orders the demon princes to seek out and claim their own mates. That is easier said than done. Eaglafonn is a cold dark isolated kingdom in the Netherworld. It might be easier to claim mates from the Domhain, but not everyone could survive on the brutal dangerous frontier. The other options afforded from the Netherworld come with their own dangers. The magic is unbalanced and balancing comes with a price. Claiming their mates lead the demon princes on epic mini journeys and reveals the need for Eaglafonn to take a greater role in helping Luke aid the dream. Dread Allies is a miniseries set in the Netherworld in the dream. It is an ancillary group of stories to the Draoithe saga. While it is set in that world, it is not in the direct series lineup. The dream just got darker and colder. Welcome to Eaglafonn.
Dread Allies: Shadow King
May 15, 2020
Word Count: Information not available
Summary: Ethan Roam has faced a lot of nightmarish challenges—finding out he's a sandman, falling in love with the man who once hunted him, and thwarting attacks from The Order of Azoth, a secret occult organization set on using his bloodline to conquer the universe by controlling immortality. And the battle is far from over. To defeat The Order and its leader, Phantom, Ethan must first find the original Sandman and then bring the fight to the Dream World. Saving the universe might be too tall an order for one dream creature, but with the help of his friends and some Celestial beings with questionable motives, Ethan just might be able to weave a trap of surreal proportions.
DREAM WEAVER
April 27, 2020