Word Count:
20000
Summary: A story born in the hollers of Eastern Kentucky. Elizabeth Robinson. An Elizabeth Robinson has lived in the hills of Eastern Kentucky as long as people have built permanent settlements in the lush, green forests. While the mountains recover from the War of Northern Aggression, the simple folk seek the healings of the Robinson women. Three generations, working the ways from the old country, live in isolation. The youngest Elizabeth Robinson, a healer by happenstance, despises her role in the family. She longs for freedom, the wilderness of her youth, an escape from a dark secret. Alone in the forest, she stumbles upon the ghost of a Yankee soldier, Samuel Henry. Determined to help Samuel pass beyond the veil, Elizabeth brings him back to her mountain home. Turning of the wheel of fortune, prosperity changes to misfortune for the Robinsons, and a menacing figure lingers like a thick fog. Generations, built on lies, force Elizabeth to face a bleak reality and make the ultimate sacrifice.
Apparitions of Elizabeth Robinson
December 19, 2019
Word Count: Information not available
Summary:
Withrow Surrett, cantankerous vampire lord of North Carolina, is passing the long winter nights of the off-season in the sleepy resort town of Sunset Beach. When the nights are long and humanity slumbers, where else would a vampire go but the beach? This is no mere vacation for Withrow and his cousin Roderick, though. They're hunting down a nest of nasty elder vampires who want to take over the world!
Of course it's not that simple, because for Withrow nothing ever is. Withrow and Roderick - and their team of frienemies, rivals, and allies - soon learn there are stranger things afoot than vampiric machinations among the dunes of Sunset Beach: mysterious mortals, twisted sorceries, and fleeting apparitions. Through sabotage, espionage, and bare-knuckled brutality Withrow must find and stop the elder vampires before they play the ace up their sleeve!
Kick back in the sand with the fourth installment of this vampire and urban fantasy series, perfect for fans of Rick Gualtieri, Jeff Strand, or Christopher Moore.
Attempted Immortality
August 21, 2017
Word Count:
73027
Summary: If blood really is thicker than water, are the ties that bind a found family stronger than the ties of blood? After a decade of homelessness and living off his own wits, Tris has lost all faith in the kindness of strangers. And after years of letting his friends down time after time, Ozzy knows he's the last person anyone should count on. When Tris's search for his lost younger brother lands him in a small town at an overly-friendly Bed and Breakfast, everyone, including the B and B herself, seem to be pushing Tris and Ozzy together. Tris learned a long time ago, under the fists of his manipulative step-father, that family can't be trusted, and love means nothing. Torn between the desire to see Tris thrive in his new home, and the need to protect the very younger brother Tris came looking for, Ozzy has some hard choices ahead. Welcome back to Griffon's Elbow and The Oaks B&B, aka Mildred. She's not the only sentient house in town.
Brother's Keeper
May 31, 2021
Word Count:
70000
Summary: When ghosts reach across the veil, Daniel Collins is there to tell their stories. Dan is a vlogging ghost hunter. He has devoted his life to documenting paranormal activity. In his converted van, he travels around the country exploring haunted sites. He loves the thrill of filming restless spirits. Chad Brewer, skeptic, works for an insurance company. He doesn't believe in ghosts, but watching Dan's vlog is his guilty pleasure. The cute vlogger is accident prone. He has Chad's work extension on speed-dial. The two talk whenever Dan gets hurt during an investigation, a frequent occurrence. When Chad loses his job for approving too many claims, Dan offers him a position as his personal assistant. The pair sets out to investigate a haunted dairy barn for the vlog's next video series. The catch is that they must live and work together in Dan's tiny traveling home. As the paranormal activity at the haunted dairy ramps up, so does the romantic tension between the two men. Can the love between a skeptic and a social media sensation conquer a vengeful ghost? Dan's Hauntastic Haunts is a paranormal MM romance between a gay vlogger and his trans personal assistant. Buckle up for a hauntastic good time.
Dan's Hauntastic Haunts Investigates: Goodman Dairy
October 22, 2019
Word Count:
64000
Summary: When ghosts cry out, Dan and Chad heed their call. Daniel and Chad are on the road to Hawk Lake, Maine, to investigate rumors of a haunting. With his new role in Daniel's life, Chad feels like he has something to prove. He is determined to make the Hawk Lake haunting videos the best Hauntastic Haunts has ever aired. Daniel gets sidetracked when he realizes that he might have gotten in over his head with his long distance apprenticeship to a genuine medium. Old insecurities rear their heads and threaten the budding relationship between Dan and Chad. Neither member of the Hauntastic Haunts crew is ready for what they uncover when they discover the truth behind the ghost ship haunting Hawk Lake. Secrets and lies that threaten to tear apart a community that is still healing from their grief might be better left buried. Daniel and Chad have to decide which is more important, telling the stories of the living or preserving the memories of a handful of ghosts. Get ready for another hauntastic adventure with this paranormal trans M/M romance.
Dan's Hauntastic Haunts Investigates: Hawk Lake
June 20, 2020
Word Count:
74000
Summary: When a curse comes calling, Dan and Chad confront their greatest challenge yet. Hauntastic Haunts is investigating the historic Ivarsson School. With Halloween right around the corner, the vlog is in peak season. Dan and Chad are eager to explore the decades-long string of strange deaths among the school's young scholars. While they delve into the mystery, both men must come to grips with Chad's newfound talents as a medium. Dan and Chad's efforts to uncover the haunting's truth meet with mixed messages from both the living and the dead. They're left wondering if this month's site is full of tricks, or if there's a treat awaiting discovery. The locals blame a curse for all the misfortune at the one-room schoolhouse, and if the pattern holds, the guys are at risk of becoming the latest victims. Join ghost hunters Dan and Chad on their third hauntastic adventure in this trans M/M paranormal romance.
Dan's Hauntastic Haunts Investigates: Ivarsson School
September 30, 2020
Word Count:
4000
Summary: Who expects a haunted doll to be such a nuisance? When Dare's dog discovers an abandoned doll on their doorstep, Dare assumes it's nothing more than a lost toy… until it begins to talk. After the doll offers up a string of bad suggestions and unhelpful advice, Dare is left wondering if the isolation of lockdown has finally proved too much. Struggling to get rid of the bad-tempered toy, Dare has no idea that this not-quite-scary fiend will accidentally change everything. With a dash of humour, this queer cosy-horror short story is a fun, quirky tale – perfect for readers who like the idea of being scared more than the reality of it.
Dare vs the Doll
May 17, 2021
Word Count:
90000
Summary: Intenze is the newest designer drug. Take it, and nightmares come alive. "Edging" is a better rush than the Tower of Terror. It's a fraction of the price of a Six Flags admission. And it's the most addictive high that the tiny suburb of New London has ever known. For Rick Carlson, the junkies roaming the streets don't even scratch the surface of what worries him. He's trying to win back his cheating wife. He's trying to protect his residents at Belmont Assistant Living from their own drug-addled grandchildren. And he's trying to save his twin boy and girl from their mother's murderous paranoia. But he can't save them all. The fears of all those who edge summon the Thirst—a living miasma that thrives on terror. It is bringing a storm. And time is running out.
EDGING
March 30, 2017
Word Count:
109728
Summary: Henry Ross Murray was a Revolutionary War hero, and his house in Boston has been converted into a museum. Everything is original to the period… including the ghosts. The Ghost U team is called in to help figure out who's haunting the Colonial mansion in Beacon Hill. They encounter family secrets and angry spirits in the course of their investigation, and they learn that some heroes aren't as heroic as they seem. So much drama. And that's nothing compared to what's happening behind the scenes. Faces in the Fog: Ghost U Volume Two is a paranormal Reverse Harem adventure with horror elements and is intended for mature audiences.
Faces in the Fog
July 28, 2020
Word Count: Information not available
Summary: Here you'll find tales of the supernatural, betrayal and murder; the mistakes that lead to the fall of empires and the constant tug of war that haunts mankind. There's a blend of science fiction, fantasy and horror - from a modern day detective facing a serial killer to a future utopia filled with disloyalty. Lovers of romance will find a little something for them too, but within these bright sparks of hope shades of darkness lurk.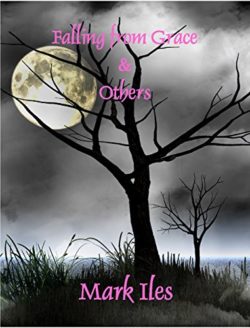 Falling from Grace, & Others
October 27, 2014
Word Count: Information not available
Summary: Coasters, carousels, an old cemetery, and a sprawling hotel on a stormy lakeside. Visit this haunted tour of scrapbook memories where legendary summers intersect with history and rumor. Told in vignettes that weave stories, newspaper clippings, postcards, and images, Ghastly Tales follows four families through the decades at a lakeside resort and amusement park where everyone eventually returns.
Ghastly Tales of Gaiety and Greed
March 10, 2020
Word Count: Information not available
Summary: Charlie Harrington not only sees the dead and speaks with them, he can make them real. Lucky for him, because the love of his life, Ethan, isn't among the living. While their relationship is unusual, things are good between them until Charlie is accused of murder and Detective Daniel Briggs walks into his life. Then, for the first time in years, Charlie is attracted to someone alive. Ethan knows he should step aside and let Charlie live his life, but he just can't give Charlie up--even if staying with Charlie may eventually kill him.
He Speaks Dead
July 20, 2014
Word Count: Information not available
Summary: Some ghosts want your soul. For these ghosts, it is only the beginning. Two brothers try to forget the tragic encounter they had with the spirits of the dead. But the years, and miles, they've run aren't enough distance between them and their tormentors. As the attacks escalates, no one is safe, including their friends. In their efforts to rid themselves of the spreading evil, they find themselves in places that blur the lines of reality, life, and death.
In Shadows of The Wicked
May 4, 2018
Word Count:
32,507
Summary: In Sacrum Umbra you were treated to tales from the shadows, the literary darkness that lives within all of us. Here you will find tales of another sort, the type you might find in the less wholesome end of the collective unconscious and the very depths of the gut. From stories of childhood gone horribly wrong to sex and madness with an impossible cost, this is where you'll find the more gruesome end of the spectrum.
In Ventre Tuo
June 3, 2019
Word Count:
68900
Summary: Romance, mystery, and an impossible relationship. Meet David:  Sculptor.  Wealthy.  Introvert.  Suffering from the loss of his wife.  The last thing he needs is to discover that his newly purchased mansion is haunted. Meet Sarrinah:  Born 1882, died 1903.  She was smart, well read, fun.  Too bad she can't rest in peace. Sarrinah and David are both flawed, but just so lovely – if only they can get over the tragedies of their past that are weighing them down… and the fact that one of them is a ghost.
Love Whispers Through the Veil
May 15, 2021
Word Count: Information not available
Summary: The Education Continues at Providence Paranormal College! Five more books, no waiting. Read. Laugh. Catch a case of the feels. Book 6: Roundtable Redcap: Can Fred rescue his brother from the Fae Queen with just reluctant Psychic Irina to help? Book 7: Better Off Undead: Lane and his vampire punk band Night Creatures are broke and broken. Can they pick up their pieces and shine in a Battle of the Bands? Book 8: Ghost of a Chance: Ghostly Horace and his Medium, Bianca, must solve a mystery to save Professor Watkins. Book 9: Nine Lives: It's time for Olivia Adler to trust her instincts or Tony Gitano just might die for good. Book 10: Fae of Fae Knot: The family that's Fae together can't stay together. The series concludes as they bend the tantamount Faerie Law to its breaking point.
Providence Paranormal College
Word Count:
111,000
Summary:
New York: two years after the Third World War. Humanity is rebuilding its cities brick by brick; the damage done to the people, however, is a lot harder to repair.
Dan Hardacre is one of those people. An aspiring stage actor and experienced draft-dodger, Dan struggles to find his place within the Utopic rebuild of New York City. When he's not caught up with the duties of work, Dan lives a quiet life in mourning for his mother, Dyani, who went missing when he was a teenager.
One night, Dan experiences a vivid, terrifying nightmare that puts him right on the front lines of the war for which he dodged the draft; it ends with him facing Death itself in the form of a metallic, faceless humanoid creature that calls itself the Valkyrie. To investigate the reason behind his haunting experience, Dan seeks out a meeting with his estranged father, who reveals the startling truth about Dan's dream: it wasn't a dream.
With this newfound knowledge and the powers it brings, Dan makes it his mission to return to the scene of his nightmare. However, he soon comes to know that confronting the Valkyrie not only endangers him but the war-withstanding world he leaves behind.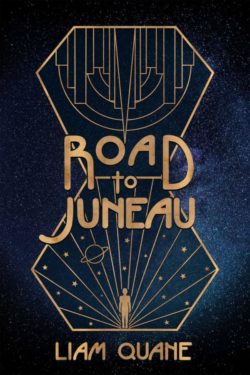 ROAD TO JUNEAU
May 18, 2021
Word Count:
47,000
Summary: A collection of tales filled with monsters, be they human or beast, ranging in setting from dystopia to pitch black noir and even general silliness. From the ludicrous to the frighteningly plausible; from deep space to after the end of the world. There are clumsy werewolves and bloody revenge, monster sleep overs and a dieting fad sure to kill your appetite. Whether looking into the past or the future, you're sure to find that stuff gets really weird.
Shotgun Bastards and Other Stories
July 18, 2018
Word Count: Information not available
Summary: A short story collection of dark and ghoulish delight. Are you ready to ready Some Scary Stories? Take a ride in someone's head as they try to survive the rigors of a demonic exorcism. Step back in time as a young Puritan lad is tempted by the children of the forest. Find out what it's like to be haunted by a spirit that both loves, and loathes you. Go on an innocent date that ends up opening the gates of Hell, here on Earth. And More.  Dim the lights and settle in. It's time for Some Scary Stories.
Some Scary Stories
October 8, 2019
Word Count:
68000
Summary: What price would you pay to rescue a friend from hell? For Logan Conner, the answer is almost anything. Guilt-ridden over trapping his college roommate in a ghost war rooted in Portland's pioneer past, Logan has spent years searching for a solution. Then his new boyfriend, folklorist Riley Morrel, inadvertently gives him the key. Determined to pay his debt—and keep Riley safe—Logan abandons Riley and returns to Portland, prepared to give up his freedom and his future to make things right. Crushed by Logan's betrayal, Riley drops out of school and takes a job on a lackluster paranormal investigation show. When the crew arrives in Portland to film an episode about a local legend of feuding ghosts, he stumbles across Logan working at a local bar, and learns the truth about Logan's plan. Their destinies once more intertwined, the two men attempt to reforge their relationship while dodging a narcissistic TV personality, a craven ex-ghost, and a curmudgeonly bar owner with a hidden agenda. But Logan's date with destiny is looming, and his life might not be the only one at stake.
Stumptown Spirits
May 16, 2016