Word Count:
135000
Summary: I am the dark foreigner among pale-skinned mercenaries, crossing exposed grasslands. My only ally is a sinister scholar hiding scars from past rituals. He alone knows I carry a child. Each day assaults my senses and leads me farther away from home. Inevitably, my mission will lead out of isolation to the first Human settlement in my path. With few watching my back and more tempted to exploit it, I wade into an unforgiving test of my training and vigilance, determined not to be pulled down. Twisted portents and pious zealotry expose danger in every direction, while new, threatening dreams of distant sands muddle my Queen's past with my present. As all close in around me, I must find a way to serve the Valsharess and slip free of man-made chains which would enslave me. In Black Witch, Death Mage, far-reaching threads and mystical visions constrict to bind those within it, pulling the tales of present and past closer than they've been in thousands of years.
Black Witch, Death Mage: Sister Seekers 5
December 6, 2020
Word Count:
109728
Summary: Henry Ross Murray was a Revolutionary War hero, and his house in Boston has been converted into a museum. Everything is original to the period… including the ghosts. The Ghost U team is called in to help figure out who's haunting the Colonial mansion in Beacon Hill. They encounter family secrets and angry spirits in the course of their investigation, and they learn that some heroes aren't as heroic as they seem. So much drama. And that's nothing compared to what's happening behind the scenes. Faces in the Fog: Ghost U Volume Two is a paranormal Reverse Harem adventure with horror elements and is intended for mature audiences.
Faces in the Fog
July 28, 2020
Word Count:
46100
Summary: Miller College's Parapsychology Department has a student-run ghost hunting group that's all the rage on basic cable. The third season is about to begin filming, and the producers want to up the ante. The three macho, pseudoscience brosephs - Quinn, Tyler and Brent - are about to be joined by a very female psychic, Emma Ray. The team is instantly resentful of her presence on their show, and lead investigator Quinn has made it clear that he doesn't believe in psychics. They're going to give Emma the hardest of hard times until they can expose her as a phony. They're going to learn that Emma is the real deal, and that it's not always wise to bully a psychic when you don't know how many ghosts are in her posse...or exactly what you'll be facing in the next haunted house. "Ghosted by You" is a medium-burn Reverse Harem paranormal ghost-hunting adventure. Not suitable for readers under 18 years of age.
Ghosted By You
May 15, 2020
Word Count:
79,000
Summary: Left for dead behind enemy lines, prince Dominel seeks refuge in an abandoned stronghold of the slaughtered wizards. There he is recruited and trained by undead mages in the once forbidden magics so that he can close the doors into the world of man and halt the advance of the horde of monsters known as the storm. Can the strength of a lone wizard stand against a god of evil bent on ruling all the worlds of monsters and men. Will other races stand as friends or foes in Dominel's quest? Can Dominel open himself to memories of his past lives without fracturing his sanity and becoming a worse threat than the monsters he seeks to halt? And what of the man who is prince, king and wizard? What space is left for him in a life of crushing duty and wondrous enchantment? For the answers read on
Havens in the Storm
February 10, 2020
Word Count:
80,350
Summary: The sun and moon have been devoured by the cosmic wolves Skoll and Hati. Fimbulwinter has enveloped the world in the cold and darkness. Men prey on each other in order to survive. Amid the chaos, in the struggle for the throne, comes a war between brothers. Hakon, the illegitimate heir to the throne of Norveig, has obtained a horn that can summon a terror from the depths of the ocean. This monstrosity has been sinking the vessels of his half-brother, Jarl Erik Bloodaxe. Erik sends a company of untried heroes to infiltrate Hakon's stronghold and steal the horn. As with all things political, there are other agendas. Fjorn, the leader of the team, is Erik's half-brother who could challenge Erik for the throne. Erik's wife Gunnhild is a powerful sorceress with her own ambitions- could her goals derail the heroes? In life, sometimes a Jarl wins, and other times a Jarl wins.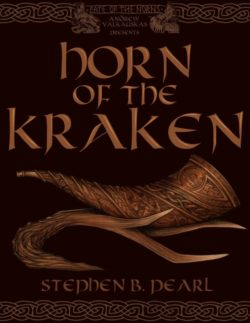 Horn of the Kraken
July 17, 2015
Word Count:
36000
Summary: INK (NOUN) Five definitions to inspire writers around the world and an unlimited number of possible stories to tell: 1) A colored fluid used for writing 2) The action of signing a deal 3) A black liquid ejected by squid 4) Publicity in the written media 5) A slang word for tattoos Ink features 300-word speculative flash fiction stories from across the rainbow spectrum, from the minds of the writers of Queer Sci Fi.
Ink
August 10, 2021
Word Count:
132,220
Summary: Bobby Gene is a man who stands out even among his people. Guided by the knowledge of his heritage as a backwoods shaman and more perceptive than many, he's grown to be a valuable asset to those he knows. While he isn't surprised to be the first to know when the woods around him begin to show clues that something isn't right, he doesn't expect just how much these omens and signs will prove to foretell something far more sinister to come. Soon strange dreams and inexplicable encounters have him questioning everything he knows- and then the people who live in his woodland Appalachian community begin to disappear. It's his job to protect and guide the others, what will he do when he's the only thing between them and the end of life as they know it?
Night is Falling
January 22, 2022
Word Count:
125650
Summary: My sister broke her neck, and the Red Sisters suspect I pushed her. They're watching me now. I'm afraid but also ready for them. I am too young to be trapped in the most wretched spot of any scheme: accused of killing the Matron's heir. Dark Elves live for intrigue in our underground city of Sivaraus, and justice means nothing to the Red Sisters who enforce the Queen's edict. Yet, I know the rules bend for the cunning and the bold, if only I can seize on the aspirations of those who succeeded before me. I must confront what lies beneath the ravening eyes of the Sisterhood, for they will give me no choice. I must discover that which is unspoken as they gaze at me. If I would thrive in pervasive webs of conspiracies, I must fight to reweave my place within them. In No Demons But Us, A.S. Etaski spins the first threads of an intense and epic tale, in which the trials of a young Davrin test her resolve to rise from the depths of the fear and hatred tearing her down. Sister Seekers is adult epic fantasy series with an ever-broadening scope, perfect for fans of entwined plots, challenging themes, elements of erotic horror, and immersive worldbuilding. Sexuality and inner conflict play into the character growth with intrigue, action, and fantastical magic.
No Demons But Us: Sister Seekers 1
August 8, 2018
Word Count:
254
Summary: Nukekubi are a form of Japanese goblin that during the day look like ordinary folk. At night they separate their head from their body and fly around scaring people to death to feed on the energies released. Ray McAndrues, a Pagan wizard/priest, encounters a Nukekubi that is feasting on the people of Toronto and decides that he has got to put a stop to it. Ray gains allies in his quest in the form of two Japanese martial artists who have made hunting Nukekubi their life's work and his on-again, off-again girlfriend Cathy, who is also a mystic. Problems arise when east and west do not communicate wall and Cathy is his on-again, off-again girlfriend. Also, what is the centuries-spanning tie that binds Ray to the Nukekubi and will it help or hinder the quest?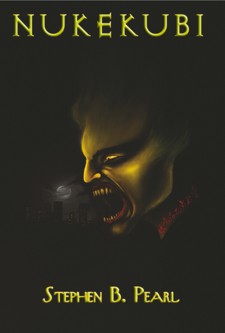 Nukekubi
January 8, 2012
Word Count:
95,000
Summary: Ian Trahan is a science prodigy with a genius streak like no other. Growing up in New Orleans under the strict guidance of a Deacon with a dark side, it leaves no question as to why he chose the life of crime. His understanding and use of DNA, computer hacking and looking like the guy next door, compiles a terrifying character that you will never forget!  Magda Volkov, a native Russian, works for the BAU division of the FBI.  Her clairvoyant ability is something that her director has learned to trust and use to their advantage, especially with a seeming "Ghost Killer" at hand. The deeper she gets into his psyche, the more they are both surprised when their strange vivid dreams begin to intertwine. Childhood experiences shape both the killer and the FBI agent who urgently wants to stop the grisly murders. Delve into the surprise twists and turns of this page turning thrill ride. The occasional comedic relief provides you with a brief release of the terrorizing heart palpitations!  This series is not for the faint of heart. Personas is the first in a new thrilling psychological crime series to come. Log into www.lauralollie.com to subscribe for the updates on the releases of the books to follow.
Personas Series
June 6, 2020
Word Count:
125350
Summary: I emerge from the Deepearth for the first time, blinded by searing light. Vast lands beyond my comprehension await me. I will face them pregnant and alone. My Sisters and I have been compelled to take missions in this uncharted wilderness. By order of our Queen and the abyssal power which backs Her, we cannot refuse. For the slimmest chance of success, we must move beyond each other's reach with little knowledge to aid us. The Valsharess predicted we would never see each other again. When a sisterhood has no demons but each other, what are we to this new land once we've been split apart? Etaski's fantasy world breaks wide open in Surfacing, as the Sister Seekers epic rises to the next level. Beneath the unforgiving sun, webs dissolve into dreams, and scattered shards of dark history wait to be picked up and pieced together.
Surfacing: Sister Seekers 4
April 4, 2020
Word Count:
138400
Summary: I've embraced bonds I've never known with the Red Sisters, even as I risk condemnation for a secret I keep. A talent unique among Dark Elves and too much like our enemies. Hard at play in the wild underground tunnels outside of my city, I discover a magic-laden passage guarded by a twisted Drider. Though I escape with my life, the Sisterhood cannot deny my presence in this forbidden lair. The Priestesses and the Valsharess must be informed. I am caught in the cascades of revelations which follow. Cruel practices and centuries-old terrors arise when I am called to serve the Priestess Wilsira and her demon-blooded son. I am not the first to confront the true faces governing the city or the consuming power of the Sanctuary, but my hidden talent reveals blind spots ignored by my elders, vulnerable and venomous at once. Can I pay the costs when weighing my submission with resistance? Will I choose my battles well, aiding my Sisters to alter the Matriarchy in our favor over the Priesthood? Or will trying see me fall prey to the hungers of the city's worst monstrosities like so many young fighters before me? In The Daedal Pit, intrigue and horror, action, and drama weave Etaski's third act of the Spider Queen's web into a consummation of promise catapulting one determined survivor to a place she could only see in her dreams.
The Daedal Pit: Sister Seekers 3
September 26, 2019
Word Count: Information not available
Summary: Four chilling tales of terror! Attack Cat is one mean animal on a killing spree, so Maverick takes things into his own hands. Can he end Attack Cat's reign of terror? Darlene is a girl who hears voices. Some are imagined but others are real. Is she insane or possessed by the devil? It might be both. Marissa is the Voodoodler, a cute little girl who loves to doodle. But don't cross her, as her classmates and teacher will soon find out. They Come is a modern day nod to Hitchcock's The Birds. It starts with a bang at the window near Madison's hummingbird feeder, and ends in a flurry of feathers and fear.
The Four Corners of Horror
February 5, 2022
Word Count:
128600
Summary: I escape into a twisted wilderness with a stolen relic protecting me from madness. Behind me is the mysterious stalker from across the plains. He's caught up to us. My sisters are out there somewhere out, and my unborn is here with me. Struggling to tell guardians from beguilers on a warped battlefield, I worry for all our fates. Somehow, I must bear the terrifying risk of bargaining with Surfacers in ways which ensure enslavement back home. No Red Sister can give up her mission when compelled by her Queen to see it through. Surrounded by allies and enemies alike seeking to influence the only free Davrin Elf on the Surface, I must relearn my limits when confronted by those who have none. The true scope of Etaski's saga arises in The Mark of Gold. Tangible peril meets cryptic visions, forcing a driven few to redefine what it takes to break the shackles of compulsion and forge them as bonds of loyalty.
The Mark of Gold: Sister Seekers 6
May 6, 2021
Word Count:
120552
Summary: Like a spout pushing its way through soil extending deep mighty roots as it grows firm and tall, Michael like those around him has become renewed in the sun. The Wheel of Creation continues to turn through tragedy and triumph with secrets and mysteries revealed, truth discarding deceit to rot away into dust. Terror still lurks in shadow, hinting at battles yet to come and while the union of souls may reign down catastrophe upon all involved, there is a newly shared optimism that this town, rebirthed and revived again after decades can meet the oncoming storm together. Bonded in battle, humbled in heart new friendships have replaced old animosities as all the residents are finding their place in creation.Despite the odds, the couple continues their path toward blending, but if the sun sets on their hopes or the union is not supported by the Mother, disaster could befall not just Michael and Kurra but the entire Grove.Book four of The Place Of Things is Blood. The blood spilled and shared through trial and combat, forged in a family or spilled through injury, death, or pain and joy. Will the Great Mother approve of a blending of souls, or will the remains and splatter of not just Michael, but all those he holds dear be splashed in chunks upon the wedding alter.As this story concludes in the middle it continues on like the cycle of the seasons. Never ceasing always evolving. Until next time, Love from the Sacred Grove.
The Place Of Things Book Four: Blood
May 5, 2021
Word Count:
121650
Summary: The helpless Noble I'd once been, she is no more. I am Red Sister Sirana, watching my city from the shadows. Once silent and disposable, I've found a place among the Sisterhood of Sivaraus, coarse, crude, and stirring to my blood. In crimson uniform I walk among sensual consorts, studious wizards, and sadistic Priestesses. I am an initiate with true influence in my underground city, a power both freeing and addicting. Everyone keeps secrets which bind them up if they jerk on the web too hard, and none are more vulnerable than novices wielding new power. Should my own secret come to the surface, I know I can't survive alone. Sivaraus will always need new Red Sisters, no matter what strangeness we bring with us. In Treasure Revealed, A.S. Etaski weaves threads of intrigue and action in this second tale of the Sister Seekers, where a new fighter tastes her potential in new connections that she must dare to strengthen by choice.
Treasure Revealed: Sister Seekers 2
March 29, 2019