Word Count:

80000
Summary: Other stories will take you to Mars. This one will take you inside the boardroom, the pub, and the bedroom with the people planning the mission. Gurdeep is an engineer and a soldier. Georgie's a food scientist. One is pragmatic with a tough outer shell; the other's an optimist, a person of ideas and compassion. In the span of a single afternoon, the couple find themselves in charge of planning a self-sustaining colony on Mars. Together, they're humanity's last hope for survival. They have 160 slots to fill with experts from all over the world as they set about designing an all-new society with its own government, economy, and culture – and that's just the tip of the iceberg. Among those chosen for the mission is Devon, an autistic scientist with a unique skill set who finds life on Earth strange and alienating. Maybe a whole new planet is exactly what's needed. With 1,114 days until the launch, excitement and tensions run high. Earth's second chance hangs in the balance. Between strict genetic requirements and the dangers of the dystopian almost-present, will everyone make it to the final countdown? This is a work of neurodiverse, culturally diverse, gender-bendy, socio-politico-economic, drunken-arguments-in-the-pub science fiction – not bang-bang-pew-pew science fiction.
Devon's Island
Word Count:

132,000
Summary: Rules were made to be broken. From terraformed outposts to magical realms, journey to worlds where deadly plants, rampant biodiversity, or failed colonies have created irresistible opportunities for those brave enough to seize them. New worlds, found family, mystical secrets, and deadly science weave together in this lesbian-centric anthology focusing on a very different kind of first time—a first encounter with a world, or being, entirely unlike our own. If you like diverse stories with lesbian heroines practicing science, magic, and seduction, buy Distant Gardens today!
Distant Gardens
N.L. Bates , Sara Codair , Robin C.M. Duncan , Wil...
Word Count:

130000
Summary: Life after the Crash. Over a century after the end of the Earth, life goes on in Redemption, the sole remaining Lunar colony, and possibly the last outpost of humankind in the Solar System. But with an existential threat burrowing its way into the Moon's core, humanity must recolonize the homeworld. Twenty brave dropnauts set off on a mission to explore the empty planet. Four of them—Rai, Hera, Ghost and Tien—have trained for two-and-a-half years for the Return. They're bound for Martinez Base, just outside the Old Earth city of San Francisco. But what awaits them there will turn their assumptions upside down—and in the process, either save or destroy what's left of humanity.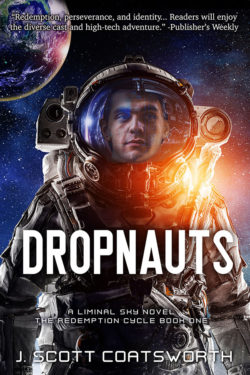 Dropnauts
Word Count:

120412
Summary: Sarah's got daddy issues. He lives in her head, built her out of fish, and killed millions of people. But he's really sorry. Honest. A father that lives in your head wouldn't be so bad if he wasn't the killer of millions. At least it's comforting to know that he didn't murder the fishes used to create your body. Or the seagull. Sarah hides her illegal nanite origins in an effort to build an ordinary life, but the legacy of dad's horrors makes it difficult. Especially when new but familiar zombie-like abominations begin to appear in the city.
Echoes of Erebus
Word Count:

214000
Summary: Starship lost in eternity... Ghost ship Impris, lost during the War of a Thousand Suns, is the stuff of legend. Her very name conjures the perils of interstellar travel. But no mere legend, she is real—glimpsed on occasion in the hyperdimensional Flux, and then gone. Her passengers and crew live on in a strange limbo, their fate hopelessly caught up in quantum defects in space-time, interstellar piracy, and galactic coverup. To the pirates of Golen Space, she is a perfect lure, drawing passing ships to their doom. Many innocent star riggers have been captured in such raids and forced to pilot for the murderous pirates. One such rigger, Renwald Legroeder, makes a daring escape and flees to the presumed safety of the Centrist Worlds. But instead of finding asylum, he is framed for treason. Something is terribly wrong in the Guild of Riggers and the government that should be protecting him. To clear his name--and perhaps to avert a disastrous war between worlds—he must escape a second time, and partner with the amphibious Narseil to return to the Deep Flux and search for the lost Impris. Legroeder's journey takes him back into the heart of raider territory, where he encounters a bewildering array of motives, conspiracies, and even deep-cyber romance. Forging friendships and finding love in the unlikeliest of places, Legroeder must nevertheless put his life on the line to protect the innocent, and preserve a shaky interstellar peace. A finalist for the Nebula Award, Eternity's End stands as a highlight of the Star Rigger saga, and one of Jeffrey A. Carver's most memorable novels. Can be read as a stand-alone book, or as part of the future history. PRAISE FOR ETERNITY'S END: "True love, cognitive dissonance, divisions among the enemy, ambitious schemes, another mission—this one deeper than anyone has ever gone before into the substrata of the Flux—and a final resolution that leaves the reader both breathless and satisfied." —Analog "You don't want to wait for the paperback." —Science Fiction Chronicle "A mesmerizing tale of human perseverance and courage under pressure that updates the legend of the Flying Dutchman." —Library Journal "Carver never runs out of new plot twists to keep the reader coming back for more." —The Washington Post
Eternity's End
Word Count: Information not available
Summary: Here you'll find tales of the supernatural, betrayal and murder; the mistakes that lead to the fall of empires and the constant tug of war that haunts mankind. There's a blend of science fiction, fantasy and horror - from a modern day detective facing a serial killer to a future utopia filled with disloyalty. Lovers of romance will find a little something for them too, but within these bright sparks of hope shades of darkness lurk.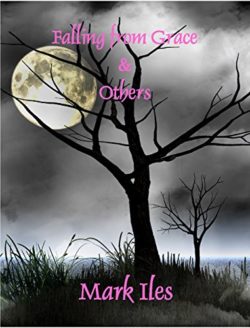 Falling from Grace, & Others
Word Count:

85000
Summary: ALSO AVAILABLE FROM INGRAM FOR BOOKSTORES We're a world beset by crises. Climate change, income inequality, racism, pandemics, an almost unmanageable tangle of issues. Sometimes it's hard to look ahead and see a hopeful future. We asked sci-fi writers to send us stories about ways to fix what's wrong with the world. From the sixty-five stories we received, we chose twelve most amazing (and hopefully prescient) tales. Dive in and find out how we might mitigate climate change, make war obsolete, switch to alternative forms of energy, and restructure the very foundations of our society, The future's not going to fix itself.
Fix the World Anthology
Word Count:

79700
Summary:
First settlers on Mars may be the last.
Emma Winters wants to explore with her robotic walkabouts.
When the tiny colony's psychologist walks out an airlock, she takes the one-way journey to Mars despite misgivings. As more deaths and illness plague humanity's tiny foothold, Emma must discover the truth before the Red Planet kills them all.
Glory on Mars
Word Count:

20000
Summary: An Artificial Superintelligence bent on destroying humanity. A mech warrior determined to stop it. No one is safe. Not before, not now, not ever. Jedidiah Martin survived the AI apocalypse that almost destroyed America. He was there when they took down Isaac, the superintelligence responsible for nearly ending humanity. But is Isaac dead for good? From the ashes, a new threat has emerged. The people from a neighboring town are missing, as is Jedidiah's nephew, Blake. All hell is about to break loose. With his band of mechanized warriors, Jedidiah sets out to find answers. But the questions keep coming: Is Isaac back from the grave? What does he want with Blake? Will he try to finish humanity for good this time?
Gods of War
Word Count: Information not available
Summary: Elderly, unarmed, and extremely dangerous. Ajay Andersen was the best hacker the NSA had ever hired. He sank corporations, toppled governments, and broke cryptography. All of it. Retirement hasn't slowed him down one bit, thank you very much. When his estranged daughter shows up on his doorstep with his two granddaughters, Ajay will do anything to keep them safe. He'll hack biotech corporations and criminal enterprises alike. He'll brave the woods of Minnesota. Nobody after his girls will be safe, but the more he digs, the more he dredges up the shadows of his own dangerous past. He only needs to know one thing: What makes his granddaughters so darn dangerous?
Grandfather Anonymous
Word Count: Information not available
Summary: Retired, reclusive, and too smart to die. Hacker Ajay Andersen knows his retirement isn't always going to be sunshine and roses. He's committed to protecting those he loves, and sometimes that's not going to be easy. But things get complicated fast when he finds Silas Cardoso's body in his living room. An environmentalist entrepreneur threatens the very wilderness he once protected. Mercenaries hold information that could endanger Ajay's granddaughter Kylie. If he's going to make things right, Ajay will need to venture somewhere he never wants to go during the harsh Minnesota winter: Outside. Too old to race a snowmobile through a dense forest? Maybe. Too old to be a pain in the butt? Not this Grandfather.
Grandfather Ghost
Word Count: Information not available
Summary: Seasoned, strange, and dangerously clever Some invitations are impossible to refuse. When Ajay and Kylie are invited to a dinner party hosted by one of the wealthiest women around, Ajay sees it as an opportunity to dig into her past. He needs to find what shady business she's been up to and how dangerous she really is. Never mind that she's Kylie's grandmother. What starts out as a dinner party turns quickly to trouble when a guest is murdered. Was the killer the billionaire socialite, the odd chef, or one of the other guests? Ajay needs to cut through the complex connections between the reluctant guests, because one of them is a killer–but they aren't the only one. Too old to learn decent manners? Maybe. Too old to solve a murder? Not this grandfather.
Grandfather-Guardian
Word Count:

17000
Summary: "...an apocalyptic survival story that moves with the speed of a raging river..." This is how the world ends. For one man, this is how it begins. Donald Kerston's life up to now could only be described as a nightmare. But what he wakes up to suddenly becomes much worse. Struggling for his very survival, for the first time he finds friends and a future - only to be confronted with the one thing he didn't ever want to face.
Gutshot: The Catastrophe
Word Count:

55000
Summary: A damaged ship, a dying shipmate–can she save both? Under attack! The flight back to Hyvilma should have been the easy part for the crew of the Majera–until a deadly ambush by pirates sends them reeling through hyperspace. Now getting to the planet in time is the only way Captain Kitra Yilmaz can save her dying friend. But landing at Hyvilma may be impossible: war has broken out on the Frontier. With illustrations by Hugo Finalist Lorelei Esther.
Hyvilma
Word Count:

94000
Summary: Braxton Thorpe has discovered a threat to the entire Solar System, but he has a problem: he's dead. Frozen at death, he awakens to find himself uploaded into an electronic matrix. Exploring beyond the matrix and the larger GlobalNet, he discovers the Oort, a distributed electronic entity older than humanity, with an unnerving secret: aliens wiped out nearly all life on Earth once, and are coming back to do it again. The mathematical entity that is Thorpe has to find a way to convince humans of the threat, and in time to do something about it. But how, and what? If you've read Niven's A World Out of Time or Taylor's We Are Legion, the opening of Icicle will only seem familiar. Buckle up for a wild ride; you ain't seen nothing.
Icicle: A Tensor Matrix
Word Count:

36000
Summary: INK (NOUN) Five definitions to inspire writers around the world and an unlimited number of possible stories to tell: 1) A colored fluid used for writing 2) The action of signing a deal 3) A black liquid ejected by squid 4) Publicity in the written media 5) A slang word for tattoos Ink features 300-word speculative flash fiction stories from across the rainbow spectrum, from the minds of the writers of Queer Sci Fi.
Ink
Word Count: Information not available
Summary: Kal has always been considered too "fragile" to participate in the village activities. Her lithe stature links her to her father and distances her from everyone else. He left the village to fight in the Teristaque Wars and never returned. She meets Sarge, a strange star species of the human race who seems to know the secret of the patch from her father's uniform. Kal has always known she is different than her fellow villagers, and finally she may be closer to finding out why.
Kal's Fall
Word Count:

55000
Summary: Stranded in space: no fuel, no way home… and no one coming to help. From the pen of Hugo Finalist Gideon Marcus comes the found-family, YA Space Adventure you've been waiting for: Nineteen-year-old Kitra Yilmaz dreams of traveling the galaxy like her Ambassador mother. But soaring in her glider is the closest she can get to touching the stars — until she stakes her inheritance on a salvage Navy spaceship. On its shakedown cruise, Kitra's ship plunges into hyperspace, stranding Kitra and her crew light years away. Tensions rise between Kitra and her shipmates: the handsome programmer, Fareedh; Marta, biologist and Kitra's ex-girlfriend; Peter, the panicking engineer; and the oddball alien navigator, Pinky. Now, running low on air and food, it'll take all of them working together to get back home. With illustrations by Hugo Finalist Lorelei Esther.
Kitra
Word Count:

86000
Summary: Regan has her ups and downs. -Dumping her girlfriend: Down. -Moving in with her loving brother: Up. -Waking up to a plague of undead: REALLY down. After the undead began roaming the neighborhood, Regan lost track of her brother. She's spent the last two years searching for him. In the meantime, she's fallen in love, only to be told, "Sorry, I'm straight. And you're a lunatic." There's a psycho out there somewhere who caused the outbreak, using nanotechnology, just for the fun of it, and Regan intends to hunt him down. Oh, and the crush she still has on the straight gal? Dangerously distracting, when there's a zombie around every corner.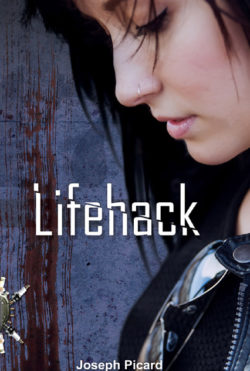 Lifehack
Word Count:

270000
Summary: Liminal Sky chronicles humankind's first journey to the stars. The first three books - the Ariadne Cycle - cover the creation and launch of Ariadne (aka Forever) as she was grown from seed on an asteroid and then launched across the interstellar void. The books are told in epic fashion, with each broken into three parts that span generations. THE STARK DIVIDE Some stories are epic. The Earth is in a state of collapse, with wars breaking out over resources and an environment pushed to the edge by human greed. Three living generation ships have been built with a combination of genetic mastery, artificial intelligence, technology, and raw materials harvested from the asteroid belt. This is the story of one of them—43 Ariadne, or Forever, as her inhabitants call her—a living world that carries the remaining hopes of humanity, and the three generations of scientists, engineers, and explorers working to colonize her. From her humble beginnings as a seedling saved from disaster to the start of her journey across the void of space toward a new home for the human race, The Stark Divide tells the tales of the world, the people who made her, and the few who will become something altogether beyond human. Humankind has just taken its first step toward the stars. THE RISING TIDE The Earth is dead. Five years after the Collapse, the remnants of humanity travel through the stars inside Forever: a living, ever-evolving, self-contained generation ship. When Eddy Tremaine and Andrissa "Andy" Hammond find a hidden world-within-a-world under the mountains, the discovery triggers a chain of events that could fundamentally alter or extinguish life as they know it, culminate in the takeover of the world mind, and end free will for humankind. Eddy, Andy, and a handful of other unlikely heroes must find the courage and ingenuity to stand against the rising tide. Otherwise they might be living through the end days of human history. THE SHORELESS SEA Rise of the Inthworld. The fight for the future isn't over yet. It could lead to a new beginning, or it might spell the end for the last vestiges of humankind. The generation ship Forever has left Earth behind, but a piece of the old civilization lives on in the Inthworld—a virtual realm that retains memories of Earth's technological wonders and vices. Lilith leads the uprising, and if she sets its inhabitants free, they could destroy Forever. But during the ship's long voyage, humanity has evolved. Liminals with the ability to connect with the world mind and the Inthworld provide a glimmer of hope as they face not only Lilith's minions, but the mistrust of their own kind as homotypicals fear what they can't understand. The invasion must be stopped, the Inthworld healed, sothe people of Forever can let go of their past and embrace their future.
Liminal Sky: Ariadne Cycle Complete Box Set